Gold Futures: Caution Advised
Tuesday, 9/22/2009 11:14
December Gold Futures show heavy speculative buying. What do these guys know...?
The ACTIVE DECEMBER Comex Gold Futures contract stumbled last Thursday and Friday in its attempt to beat the March 2008 record high of $1,060 an ounce, notes Brad Zigler at Hard Assets Investor.
Sellers lurked at $1,025 on Thursday, only to ratchet down to $1,020 on Friday. Spot Gold, then trading about $1.10 under the 3-month futures' contract, failed to rise above its high watermark as well.
That gold should take a pause to catch its breath after its breakaway move above $1,000 shouldn't surprise anyone. But the recent hand-over-fist buying by leveraged speculators in the futures market has got some traders concerned about further weakening.
The latest data from the US Commodity Futures Trading Commission showed the net long position held by reporting speculators stood at a record-high 255,183 lots. Proportionally, 93.6% of open contract positions held by these traders were purchases. Because among speculators, money managers have turned almost universally bullish.
Fully 99.6% of the contracts held by buy-and-roll index funds, together with trend-following managed accounts and institutional funds, are on the long side of Gold.
Money managers represent the largest contingent of traders obliged to report their positions to the CFTC, and the net exposure of these funds makes up more than a third of Gold Futures market's current open interest. The movements of these traders influence the gold market in more than one way.
For one thing, lots of professional traders take the current lopsided investment fund exposure as a symptom of toppiness. The question in their minds is, "Who's left to sell to when the funds' buying interest is exhausted?"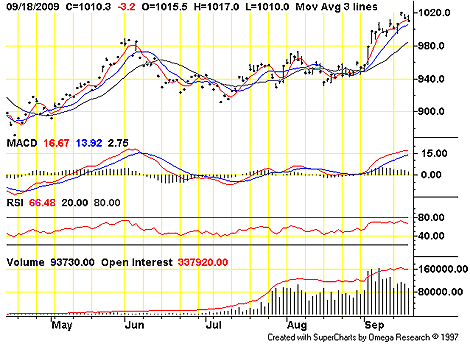 For now, there seems plenty of contracts on offer by others in the Gold Trading ring as commercials and swap dealers got even shorter last week. Even large non-institutional traders and small speculators lightened up their net long exposure by taking some money off the table.
Open interest – meaning the total number of contracts now open – is still building in Gold Futures, so new traders are entering the fray. But, with every trader category getting shorter, and only money managers as net buyers, you've gotta ask yourself:
"What do these guys know...or think they know?"
Tread cautiously.

Want to buy physical Gold Bullion and cut out the leveraged risk of futures and options? Want secure, professional storage in a choice of New York, London and Zurich? Want to access the spread directly, cutting out the middleman and setting your own Gold Price in live, real-time markets...? You want to starting Buying Gold here...