Gold Futures: Little Guy Leads
Tuesday, 1/11/2011 11:07
Small speculators – the little guy – in Gold Futures trading are more bullish than anytime since 2005...

THERE'S BEEN a fair amount of jawboning about gold's recent weakness – mostly talk of asset reallocation and the unwinding of end-of-year window dressing, says Brad Zigler at Hard Assets Investor.
The most recent data from the Commodity Futures Trading Commission give credence to these notions. Among Gold Futures traders, the heavies are commercial entities engaged in hedging their production, processing, or dealing and money managers such as hedge funds and commodity trading advisors. On a net size basis, they're fairly evenly matched, but the jockeying for market primacy has accelerated lately. Market leadership has flipped five times since the second week in November.
Last week, the CFTC's traders commitment reports showed the net market position favored commercial hedging – a preponderance of shorts – as money managers peeled off more long bets. Some, in fact, went to the dark side and became gold bears.
For the week ending January 4, the number of money managers holding long Gold Futures positions fell from 114 to 110 while the short ranks increased from 20 to 25. On a contract basis, money managers' net long position shrank by more than 11,000 contracts, giving the short commercials a nearly 10,000-contract advantage.
With that, money managers' long concentration fell to 91% – its lowest level since July 2010. Concentration denotes the ratio of long positions to managed money's total contract holdings. That still leaves a heavy bullish bias in the funds, as this chart of Money Managers' Long Gold Concentration shows...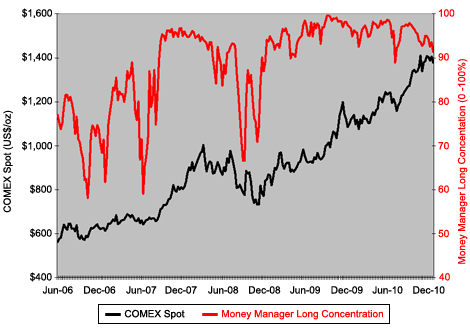 The more interesting statistic coming out of the CFTC was the long exposure of small speculators. Little guys flooded into Gold Futures last week, taking up three-quarters of the slack left by money managers. Small specs' net long position, in fact, is now near a five-year high.
What's the significance of this? Well, you've no doubt heard that some traders make a business out of fading the little guys. If you look back at the past five years, you'll see there's actually some statistical heft to this notion, as shown by the Small Speculators' Long Gold Concentration...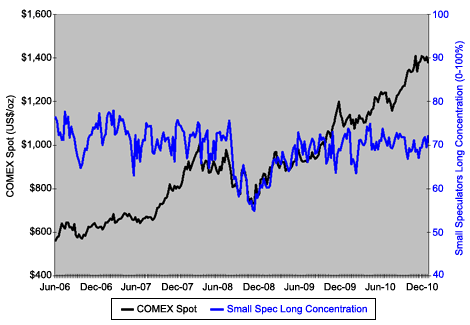 That's not to say that momentum-following money managers haven't also shown a tendency to sell at the bottom. Take a look at year-end 2008. Everybody on the spec side, if not short, was forced to sell out.
Timing, however, generally favors the money managers. There's a 72.4% correlation between the Gold Price and money managers' long concentration. The correlation for small speculators, in conmtrast, is negative 4.8%.
Gold traders now have to decide whether they want fight the tape along with the small guys or go with the money runners in search of greener pastures. Past performance doesn't guarantee future results, of course, but the stats are nonetheless compelling.

Buying Gold – physical Gold Bullion for outright your ownership – today? Make it simple, secure and cost-effective with the award-winning, mining-industry backed world No.1 online, BullionVault...