Euro Collapse, Gold Surge
Thursday, 3/05/2009 18:22
Political unrest & financial crisis drives European investors to Buy Gold...
THE EURO has suddenly become a risky currency, writes Gary Dorsch of Global Money Trends, since the financial crisis in Eastern Europe could rival the destructive power of the US sub-prime debt bomb.
Western European banks have an estimated €1.6 trillion extended in Eastern Europe, two-thirds denominated in Euros and Swiss Francs, to borrowers whose incomes are paid in Hungarian Forints and Latvian Lats, and already stretched to the limit.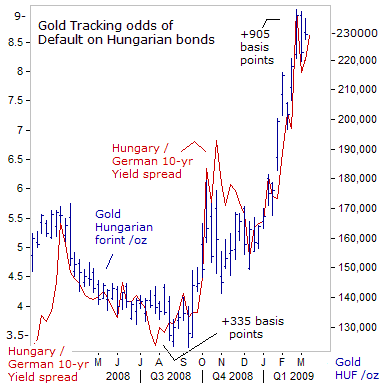 The Polish Zloty has dropped 29% against the Euro, the Hungarian Forint is 20% lower, the Romanian Leu down 17% and the Czech Koruna is 12% lower against the Euro, since the September collapse of Lehman Brothers, making their debts unaffordable and subject to default.
Emerging European currencies plunged on March 2nd, led by a 2.5% drop in the Hungarian Forint, after a summit of European Union leaders rejected a €180 billion bailout plan for the region.
The EU summit participants were unable to agree on any concrete measures to deal with the European credit crunch, the much-feared collapse of east European banks, or a pan-European stimulus program.
Hungarian president Ferenc Gyurcsany warned that failure to offer bigger bailouts "could lead to massive contractions in eastern economies and large-scale defaults that would affect Europe as a whole."
The result, he continued, would be increased political unrest and immigration pressures.
As such, investors have turned to gold as a "safe-haven" hedge against the possible default by Western European banks or emerging nations on their outstanding debt. Since July, the yield on Hungary's 10-year bond has soared from +335-basis points over the German bund, to +845-bp today.
Likewise, the Gold Price has been closely tracking the yield spread, reaching a record 230,000 Hungarian Forints per ounce last week.
Simply adopting counter-intuitive logic, however – that negative data on the US economy is bullish for the Dollar – still leaves the currency trader without the key explanation as to why a depression is bullish for the greenback.