Gold Price Defies Deflation Scare
Tuesday, 8/17/2010 12:26
The price of gold has so far defied the "deflation scare" in bond markets...

SO FAR, the prospect of Japanese-style deflation spreading to other G7 industrialized nations hasn't scared off the hard-core gold bugs, writes Gary Dorsch at Global Money Trends.
In New York, the yellow metal is still changing hands above $1200 an ounce, or nearly double the levels that prevailed five years ago. Intuitively, one could expect that the Gold Investment market would thrive in an environment of near zero-percent interest rates, coupled with massive monetization of government debt by central banks, and bailouts of the banking oligarchs.
The US Treasury issued $165 billion of fresh debt during July, and so far in the first 10 months of fiscal 2010 (ending Sept 30th) the shortfall has totaled $1.17 trillion. July's deficit marked the 22nd straight month of red ink for the US government, the longest string on record. If the US economy slips into a "double-dip" recession, it could weaken tax revenues. Thus the Fed's sleight of hand, announced last week, in shifting maturing debt in mortgage-backed bonds into Treasury bonds.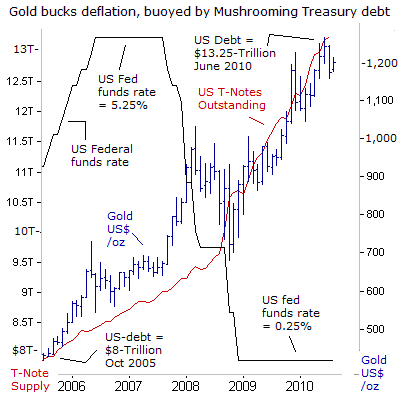 US President Barack Obama has made a last-minute pitch for aid to financially struggling states. Obama and the Democratic led Congress aim to send $16 billion for Medicaid and $10 billion for schools in order to prevent states from defaulting on their debts.
US states could face budget shortfalls of more than $120 billion this year. Thus, the Fed could soon be in the business of bailing out individual US states, and not just Washington and banksters. For Gold Bullion bugs, more government debt equals more printing of US Dollars by the central bank. Bernanke didn't authorize a new round of money printing last week, just a shuffling of paper money already in circulation. Yet a resumption of full-scale Quantitative Easing still looms on the horizon.
Deflationist enthusiasts, rushing to gobble-up Japanese government bonds, also face a major price risk that could lead to severe losses, and within a relatively short period of time. On August 11th, Japan's Ministry of Finance sold ¥2.4 trillion ($28 billion) of five-year JGB's with a 0.30% coupon, the lowest in seven years.
The auction attracted bids that were 4.7 times the volume on offer, the highest since 2005. That compares an average bid-to-cover ratio of 3.47 from the past 12 auctions. Note that Beijing has been a buyer of ¥1.7 trillion ($20 billion) of JGBs so far in 2010.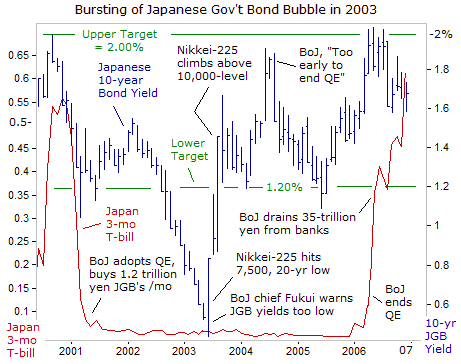 Still, traders are mindful of the bursting of the JGB bubble in mid-2003, when yields quadrupled within four months as prices sank.
Traders were lured into bidding-up JGBs until the 10-year yield had fallen to a historic low of 0.43%, under the influence of the Bank of Japan's hallucinogenic QE-drug. However, JGB yields suddenly reversed and surged sharply higher to 1.65%. JGB losses continued to mount through 2006, when the BoJ scrapped its QE-scheme, and 10-year yields climbed to 2%.
Someday, it might dawn on bullish speculators in US Treasury debt that the fear of a deflationary spiral is just a propaganda ploy, devised by central banks, to drive down the cost of financing government debt. If you think there's deflation in the air, look around you. Prices are not falling for basic services, food, or energy. However, the American middle class is under siege from slumping home prices and cuts in wages and medical benefits.
But as John Maynard Keynes used to say, "The market can stay irrational longer than you can stay solvent..."
Starting your Gold Investment today? Go to world No.1 BullionVault now...