Gold, Oil & the Dollar
Tuesday, 4/21/2009 16:50
Market action in gold, oil and the Dollar says the US might not be free of deflation just yet...
YOU WOULD HAVE THOUGHT investors would be happy that Bank of America turned in better-than-expected earnings, writes Brad Zigler for Hard Assets Investor.
But instead this week, they focused on the bulge in the bank's loan-loss provisions, a telling signal of worsening conditions to come.
That was the excuse used to knock the bank's stock down 24%, taking the legs out from under the financial sector and, in turn, the broader market. The S&P 500 was dragged down more than 4% by Monday's close. But on the hard assets side, the trading week started with another sort of harum-scarum scenario. Gold traders looked past the otherwise bearish influences of falling crude oil prices and a stronger Dollar to push nearby April futures nearly $20 higher – up to $887 an ounce – by the time Gold Futures trading ended at the Comex.
Gold Investment caught some flight-to-safety buying as money left equities. But truth be told, there was more short-covering than fresh longs in yesterday's gold derivatives market. Gold bears still have the upper hand in the near term. For now, I believe, the best bulls can reasonably expect is a trading range. And a lot of market noise.
Crude oil traders meantime took their futures market down toward session lows at Monday's close in a dramatic breakdown from the wedge pattern that had developed over the past couple of weeks. Ahead of the last trading day for the May WTI contract, open interest piled into June NYMEX futures, dropping prices $4 to $48.51 a barrel. And if the bears had their way, they'd take the nearby contract down to the $34 level.
So what? Oil's decline looks to be a symptom of much stronger market forces than those driving gold's recent ascent. There's a wave of fresh selling in the crude market driven by insiders. It's not hard to see why.
With input costs dropping, refining margins improve. In fact, as of Monday, the "crack spread" between raw, crude oil prices and refined petroleum rose to levels not seen since early March.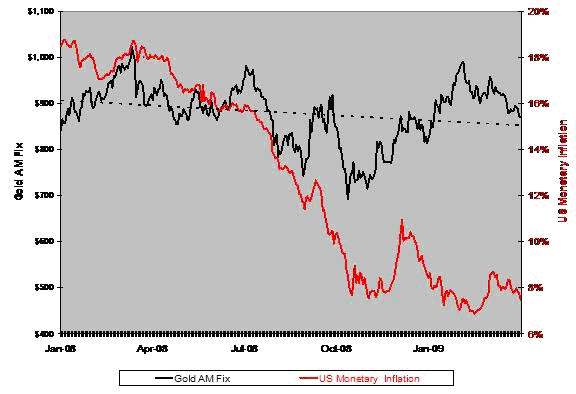 The US Dollar, like gold, continues to act intermittently as another safe haven play, averaging a $1.3050 level against the Euro in wholesale trading. Last Friday, Euros cost traders a penny and a half more. And all told, for US investors at least, this tells us we're not yet out of the deflationary woods.
Indeed, the annualized rate of US monetary inflation sunk 0.30% on last week's data to 7.5%. What might that mean for Gold Prices ahead?