Gold Year-to-Date
Tuesday, 7/14/2009 09:19
Differing performances for the Gold Price in different currencies reflect capital flight...
WHEN WE WRITE about gold we tend to assume a rather Dollar-centric attitude, writes Brad Zigler at Hard Assets Investor.
It's certainly true that gold's value in greenbacks fell precipitously last week. Measured in other reserve currencies, however, gold didn't appear quite as weak.
In Dollar terms, the Gold Price lost 2.2% for the week ending Friday. In Japanese Yen, the metal gave up 1.7%; in Euros, it slipped 1.3%. Shedding only a half-percentage point, gold held up comparatively well against the Pound Sterling.
The differentials most reflect last week's capital flights. The Dollar's still seen as the safest haven among the reserve currencies; the British Pound, the weakest. At least that's the way traders and investors think now.
The year-to-date picture looks a little different. Okay, a lot different.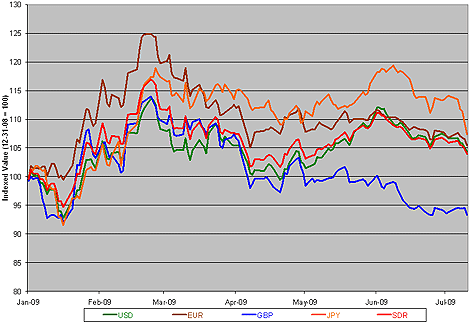 Two things to note from the chart above:
Gold's lost ground to the British currency – and the British currency alone – on a year-to-date basis;
The value of gold denominated in Special Drawing Rights – the transnational settlement "currency" used at the International Monetary Fund (IMF) and mooted by some as a reserve-currency replacement for the Dollar – is below the 900 mark for the first time since early May.
The Yen's been the weak sister this year, though it seems to be finding
its legs. And the Pound? Well, Sterling looks to be on a deflationary
roll that doesn't yet seem to have reached a swale.
| | |
| --- | --- |
| Currency | Year-to-date % |
| Japanese Yen | +7.4 |
| Euro | +5.4 |
| US Dollar | +4.4 |
| Special Drawing Rights | +4.0 |
| UK Pound Sterling | –6.7 |
Central bank machinations and the unfolding seasonality in gold demand will make the upcoming month or two very interesting.