The technical picture right now
Wednesday, 3/14/2007 17:36
Consolidation aside, the long-term prognosis remains bright...
Gold Forecaster: Global Watch, 14th March 2007
Below is a snippet from the latest weekly issue from GoldForecaster.com
GOLD BROKE RESISTANCE at $675 and moved to nearly $700 before making a sizeable fall with the general markets recently.
But with gold exceeding that key technical resistance before the correction, it has moved into a position so as to be ready to move much higher once this consolidation is over.
This correction only puts a short-term dent on the move up, allowing those still to enter to get in below $650 before the market makes a move to and past the prior $730 record highs.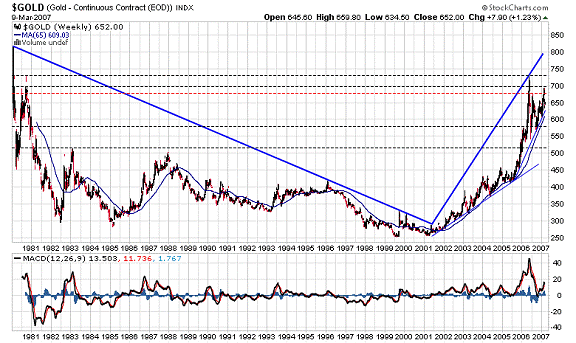 Terrific support is seen in the low to $600s. The market is making higher highs and higher lows since the 2001 bottom around $250 per ounce. The next major upside objectives remain $730, then $850 followed by $1,000.
As the market presents this pullback to us, we continue to view it is an opportunity. The weekly charts continue to project extreme bullishness and this pullback is a healthy period of consolidation before the next objectives higher!
With the breakout past $676 to $692 and the violent fall back to $634, we received the expected bounce. We now need to go through a period of consolidation until a firm foundation is made for the move up, drifting higher before we can see a resumption of the rally to $730.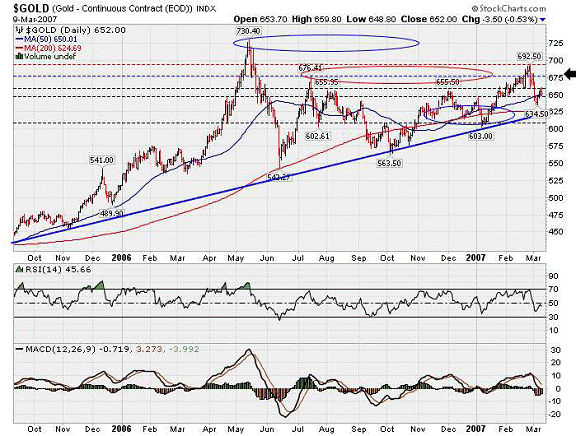 $655-660 remains a good area of resistance; a close above this is needed to retarget $675-676 then $690-700. For now, good support is seen beneath current prices. Any purchases below $650 appear to offer quite a good risk/reward play short-term.
$700 then $730 remain upside targets – and judging from the action over the past few months, the market is showing us that it is only a matter of time. If the market snaps back in the next week or two, then we will be in good shape. Otherwise a period of consolidation – as mentioned above – now appears to be most likely.
Volatility has been quite high and will remain with us, although it may settle down from the levels observed in late February into early March.
Pullbacks are very attractive at this time!
Please subscribe to GoldForecaster.com for the entire report...