Gold & the 10-year bull market in "stuff"
Wednesday, 10/03/2007 14:33
Gold and commodity prices look set to continue their bull market for another 10 years...
GOLD'S SIX-WEEK RISE against the US Dollar has finally run out of steam, at least as a short-term trade.
"Gold fell the most since August [16th] after the Dollar rebounded from its lowest ever against the Euro, reducing the appeal of the precious metal as an alternative investment," according to Bloomberg.
But whatever happens to Gold Prices in the short-run, it will be fascinating to watch commodity prices and the Gold Market for the rest of the year. Commodities like oil and gold are at the high-end of their trading ranges. The Dollar is at the low-end. The Yen remains weak, the Euro too strong for the liking of European governments.
Whenever you see assets reaching extreme trading ranges, something has to give. Either they test previous highs and make new ones, or they fall back and re-organize for a fresh assault later. The decline of the Dollar is forcing the issue right now, and causing a re-think of the fundamentals of the entire global system.
That's a tough market to trade in. But if you like volatility, you've got to love the current conditions.
Here in Australia, the Reserve Bank made no changes to its interest rates this week. No surprise there. Perhaps the most interesting news coming from the Bank was the release of its monthly index of commodity prices. The index was up a whopping 2.6% in September, which isn't a surprise either when you look at the trend in commodity prices since the bottom of 1999.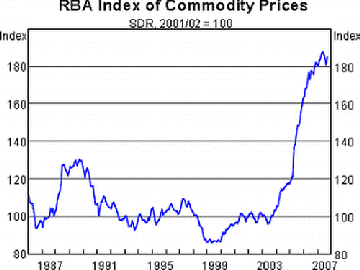 The rise in commodity prices is coming off an awfully low base. What's more, the cost of raw materials has been declining for roughly 200 years, with more and more producers entering the global economy.
But now, thanks to the collapse of Soviet communism and liberalization in Asia, more consumers have entered the global economy as well. Several billion of them. This has reversed the long-term decline in commodity prices. It's also the best argument for the bull market in resources and Gold Prices lasting another 10 years.
The biggest risk right now is that real economic activity is about to by compromised by financial chicanery. We suspect you haven't heard the last of the global credit crunch yet.
In the meantime, we'll enjoy the resource ride.