Gold Bears & Bulls Fight for Control
Tuesday, 7/27/2010 11:10
We could be in for some big doin's in Gold Prices...

LAST WEEK, it seemed as if bulls and bears were merely trading punches in the gold market, writes Brad Zigler at Hard Assets Investor.
Spot Gold prices vacillated between $1200 and $1180 an ounce. But despite the apparent draw, some real damage was done to gold's recent upward momentum. Bullion ended the week as it started – with short selling. Friday's short selling, though, was a lot more aggressive.
Open interest in the Gold Futures market shot up by nearly 20,000 contracts on Friday as prices sank. The buildup replaced the contracts that had been offloaded when shorts covered their midweek bets. In other words, a whole new wave of short-sellers came to the market Friday.
The move came after money managers liquidated long positions to a level not seen since April 2009. The Money Manager Strength Index fell below 90 last week, as 9% of portfolio runners closed out long gold positions. The index measures the bullishness of managed Gold Futures on a scale of 1-100. The index had been topping out in the high 90s for months.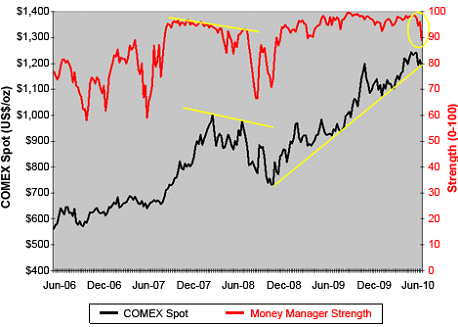 Gold Prices are now precariously close to a bullish trend line emanating from the October 2008 pivot point low.
If bulls can't keep spot Gold Bullion prices above $1180 by this week's end, bears will be greatly emboldened to push prices lower. Sights will first be set at a key retracement level at $1155 an ounce. Then, if that's breached, they'll target $1044. Those giddy with bearish intent might be shooting at a three-digit target at the $974 level.
What if the sell-off occurs? Will it spell the end of gold's run? No, not even if gold trades with a $900 handle. After all, there was a $200 swoon in Gold Prices when the Money Managers Strength Index pitched 26 points lower between August and September 2008. Look what happened afterward – a near-doubling in prices.
No, real danger for gold's longer-term uptrend won't be signaled until prices break the trend line passing through the 2006 lows. Today, that's at the $780 level. Could that happen? Sure, but for now the odds are long. The fundamentals that engendered gold's bull market haven't changed. There's been a lot of fear premium built into the Gold Price in the first half of 2010, however. It's that which is now being eroded.
For now the line is drawn. Bulls and bears are headed for a showdown. This week ought to be real interesting.
Want to Buy Gold at your price, live online, with instant settlement in physical metal at the point of trade? Go to BullionVault now...