Global Gold Production Stuck in Sluggish Mode
Friday, 2/03/2012 11:25
Despite a recent recovery, Gold Bullion's production story mirrors that of oil...
RECENTLY PUBLISHED data from the US Geological Survey show that global Gold Bullion production, after falling every year between 2001 and 2008, finally rose for the past three years, writes Gregor Macdonald.
In 2011, production reached 2,700 metric tons. However, in a larger context, the past decade has been quite a poor one for the production of Gold Bullion. The compound annual growth (CAGR) rate has fallen well below the average of the past 110 years.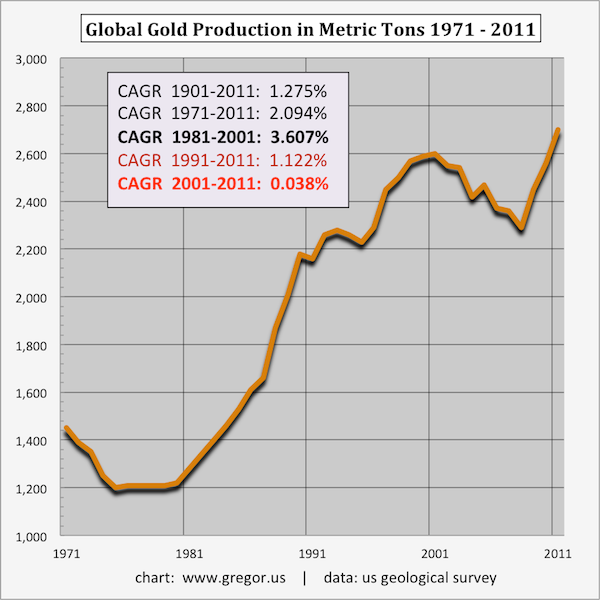 The high cost of marginal supply and the poor production performance of the large cap gold miners fits in nicely to the theme. It also mirrors the experience of "Big Oil" the past decade, which has been unable to replace reserves with oil, and has increasingly turned to natural gas.
Much of the new production therefore is coming from smaller plays, and from the smaller mining companies. But whether a large array of smaller deposits can make up for the decline of the larger deposits—sustainably—is unclear. What's more certain however is that new supply is only possible with the new price range of gold, above, say, $1200 an ounce. As with oil, should price fall dramatically from here, supply too would quickly adjust downward.
Want to buy physical Gold Bullion at the lowest possible price?...