Arguing Against Gold
Monday, 3/02/2009 11:51
Arguments you won't hear from late-night TV infomercials promoting gold...
NO MATTER which side you line up on, writes Brad Zigler for Hard Assets Investor, you can't ignore the $300 rally in Gold Prices since late October.
For the February Gold Futures contract traded at the Comex in New York, that amounts to a 46% increase – pretty much a replay of the run-up that ended last March. That should prompt you to wonder about the odds of gold topping out again.
To so-called gold bugs, any under-exuberance for wildly optimist gold forecasts is anathema. Monetarists, on the other hand, grouse about measuring the US Dollar's value against Gold Bullion.
Your personal answer no doubt depends on much more than simply how you see Gold Investing. But let's play devil's advocate for the moment.
What factors argue for a gold sell-off? Or, at least, what might keep lid on the metal's ascendance?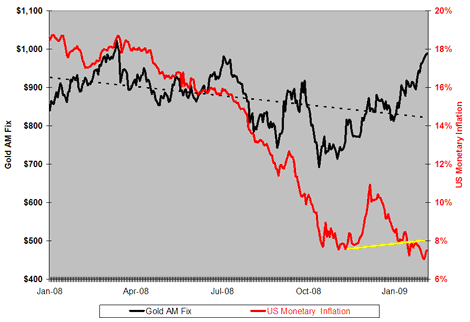 First, this year, the US Dollar has provided as much refuge for worried US investors as gold. Ordinarily, there's an inverse relationship between gold and the Dollar. In the current global disinflationary environment, however, the greenback is proving to be the best nonmetallic haven.
Rising dollar interest rates would enhance the buck's attractiveness, at least until a cyclical reflation of the currency. So yes, while there will be a lot of dollars out there in time, right now there are a lot of representations of the dollar-bills, notes and bonds still awaiting redemption.


The dollar's prior inflationary pace was broken well before the price of gold peaked in March '08. We've yet to see the leading edge of reflation. Dollar interest rates then bottomed just before the Obama inauguration and have steadily gained ground since then.
But rising rates are like lipstick. A judicious dose can enhance the beauty of a currency; too much, and it looks tawdry. There's nothing tawdry, though, about the 18-point rise in the dollar LIBOR over the last month (interbank lending rates). It's sustainable and makes the buck even more attractive.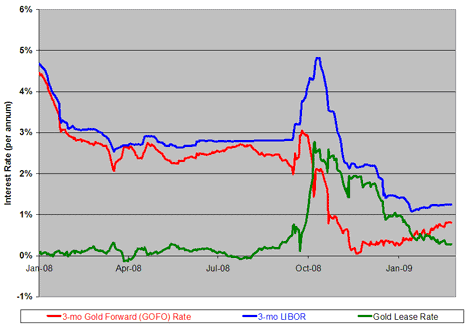 The gold lease market belies the shortage scenario played up by many market pundits, especially amongst Gold Coin sharks trying to hawk their wares on late-night TV.
Gold lease rates – the price of borrowing gold in the commercial wholesale market – have been falling precipitously as the contango reflected in forward rates has been rising. Contango exists when supplies are plentiful. The current oil market provides testimony of that. The gold market, at least the commercial gold market, gives every indication of being well-supplied.
Relative strength in Gold Futures also crossed into "overbought" territory when the spot contract topped $1,000 last month. The peak, if not exceeded, would represent an interim Double Top in Gold and confirm that the March 2008 high is likely to hold.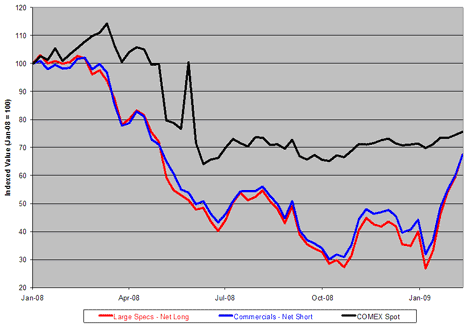 Commercial hedgers are still driving Gold Futures pricing. Aggressiveness on the part of large speculative buyers has actually waned as prices moved higher.
Over the past month, net long speculative positions rose 34% while commercial net shorts picked up 40%. But think back to the events surrounding gold's March 2008 peak and ask yourself this:
"Have economic conditions improved or worsened since then?"
I think it's fair to say our financial troubles have deepened. If that's true, and if gold is a safe haven, why hasn't the metal made new highs for Dollar investors? (It's made plenty of new highs for everyone else...)
This is by no means an exhaustive analysis, but it does raise essential questions that gold bulls should be prepared to address when making their case for higher prices.
Just don't expect to hear the answers in the late-night infomercials hawking gold, though.