Gold ETFs See Inflow as Prices Fall
Monday, 11/21/2011 11:01
Gold ETFs see gains – but net outflows hit Silver ETFs...
AS THE Gold Price fell a net $64.71 or 3.6% last week Friday to Friday in USD terms (and about €27.03 or 2.1% in Euros), SPDR Gold Shares (NYSE:GLD), the largest Gold ETF in the world, once again reported strong positive money flow into the trust (more buying pressure than selling pressure), notes Gene Arensberg's GotGoldReport.
Traders and investors apparently sought safe harbor where they could. Apparently the US Dollar is not the only place people are running to in a rush to liquidity.
The Authorized Market Participants for GLD issued new shares, in return for adding to metal holdings to the tune of another 24.42 tonnes this week, up to 1,293.09 tonnes of allocated, LBMA-approved, so called "good-delivery" gold bars held for investors by a custodian in London.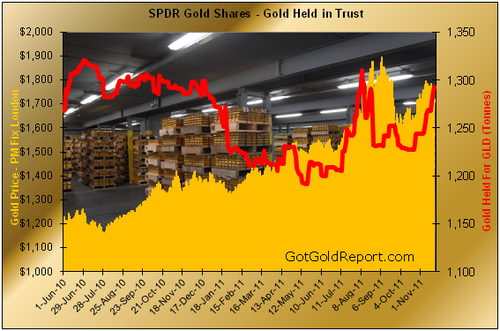 Source for data SPDR Gold Trust.
As of Friday's close the metal held in trust for GLD was worth about $71.5 billion. Since October 24 (just under one month) there has been consistent positive money flow into GLD, with the trust adding 65.58 tonnes of gold bars as the price of gold move a net $67 higher.
GLD and most physical-backed Gold ETFs add metal and increase the number of shares in the trading float in response to periods of aggressive buying pressure - when there is more positive liquidity than negative liquidity. The reverse is also true.
iShares COMEX Gold Trust (IAU), now our preferred Gold ETF, also reported an increase of 2.43 tonnes to their metal holdings, up to 171.4 tonnes of gold held partly in COMEX warehouses and partly in London. The ETF, whose shares reflect the "action" of 1/100 of an ounce of gold less accumulated fees and expenses, claimed an NAV of $9.47 billion as of Friday's close, about 13.3% the size of GLD, but slowly gaining on it. IAU's expense ratio is lower than GLD's (0.25% vs 0.40%), but liquidity and option depth is better with GLD.
Metal holdings for BlackRock's iShares Silver Trust (NYSE:SLV) declined this week, reflecting negative money flow (more selling pressure than buying pressure), likely in answer to the $2.00 sell-down Thursday. Authorized Market Participants arbitrage periods of negative money flow by redeeming shares in SLV (literally buying them out of the market) in return for an appropriate amount of silver from the trust's custodian.
Presumably the Authroized Market Participants (AMPs) then simultaneously sell the silver into the market to recoup the funds used to redeem SLV shares. When the selling pressure is considerably higher (more) than buying pressure the AMPs keep the SLV share price from falling too low (falling faster than the spot price), keeping SLV from disconnecting with the spot price of silver. These market squaring actions are done in minimum baskets of just under 50,000 shares. (As of Friday the minimum basket amount called for 48,643.30 ounces.)
The reverse is also true in periods of heavier buying than selling pressure.
For the week the AMPs redeemed 2,250,000 SLV shares and the trust returned to the AMPs from the custodian 68.08 tonnes of silver. As of Friday's tally SLV reported holding 9,715.63 tonnes of allocated, LBMA-approved commercial good-delivery silver bars, held by SLV's custodian in London (JP Morgan Chase, London).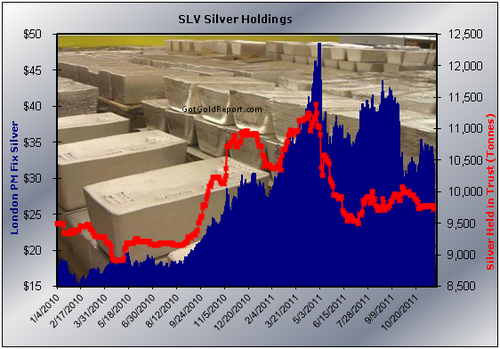 Source for data, iShares Silver Trust.
Since June, with silver more or less in a downtrend (a series of lower turning highs and lows), metal holdings for SLV have been in a kind of consolidation with as little as 9,500 and as much as 10,010 tonnes of silver held.
It has been our impression just lately (since about June) that periods of positive or negative money flow for SLV do not correlate well with the near-term direction of the spot price of silver. That is to say that additions or reductions in SLV metals holdings have not been very predictive of late.
Buying Gold or Silver Bullion? See how BullionVault can dramatically cut your costs...