Gold Trading Jumps on '00 Thresholds' Drop
Tuesday, 8/04/2015 09:01
Gold trades at cheapest since 2010 after drop at $1100, £700 and €1000...
GOLD TRADING
by private investors jumped in July as people reacted to the drop through key threshold prices, writes Adrian Ash at
BullionVault
.
With the gold price trading down through $1100 and £700 per ounce – new 5-year lows – it also made new 2015 lows for Euro investors beneath €1000 per ounce.
The number of private investors choosing to cut or quit their holdings across the month rose 50% compared with June. But the number of people starting or expanding their personal gold holdings rose for a third month running – hitting the highest level since October 2013 on data from BullionVault, the world's largest gold and silver investment platform online,
used to trade $1.2 billion of metals last year
.
Overall, that put the Gold Investor Index – our proprietary measure of sentiment,
based solely on actual investor activity
– at 54.5 in July, just below June's 54.6 and holding the strongest reading since the price crash of Spring 2013 unleashed a wave of new demand.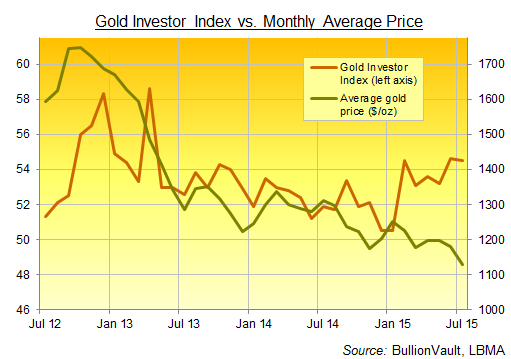 But so-called 'retail' gold investing rose sharply in contrast, led by a spike in trading and new interest when prices broke below what proved key thresholds mid-month.
On that Monday, 20 July, when the
gold price spiked below $1100
for the first time in 5 years, BullionVault saw its heaviest 1-day trading volume since October 2014. Web traffic to BullionVault that week proved the strongest since
April 2013's price crash
, just beating New Year 2015's flood of interest on the 10% price rally.
New account openings also jumped that week, doubling the previous 90-day average and taking July's full-month total 15% above the previous year's monthly figure to its strongest level since January.
According to
Google Trends
, smaller bullion dealers and outlets likely saw a similar pattern. Big moves in price – both up and down – prompt notable jumps in gold-related search volumes, and worldwide searches for "bullion" in English rose 34% in July from June, reaching the highest level (outside December's annual gift-shopping searches) since April 2013.
Gold-related search volumes lagged that 2013 spike by 25%, but July's price drop was much less dramatic. It still took gold to its cheapest levels since early 2010 for US and UK investors however, and trading by Euro investors also responded strongly as gold crossed a key threshold point at €1000 per ounce.
BullionVault last month saw the strongest growth in new UK investors since March. The number of new Eurozone investors rose 20% above the recent 12-month average. Combined with the US Fed's repeated delays to raising interest rates, July's 6% drop in Dollar gold and silver prices was met by a 73% rise in the number of new US investors compared with June.
Indeed, new US customers last month accounted for the largest proportion of all new BullionVault users since the start of 2011.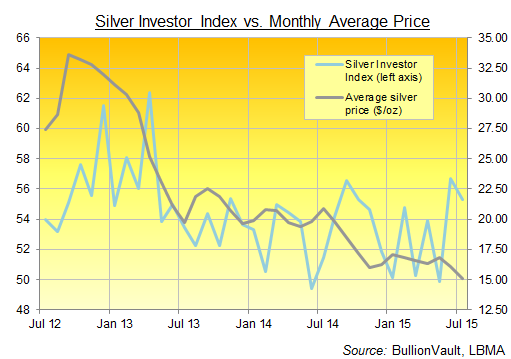 Sentiment towards silver bullion also remained strong in July, but eased back more notably than gold's, falling to 55.3 from June's 26-month high of 56.7 on the Silver Investor Index.
While silver bullion found slightly fewer buyers last month from June's two-year high, July's investors bought more by weight, adding over 15.6 tonnes in total. The largest 1-month addition since last October, that took BullionVault clients' silver holdings to a new record of 526 tonnes, greater by more than 14% from this time last year.
Private-investor appetite for gold and silver, in short, remains undimmed by July's price-drop through key '00' thresholds. On the contrary, new trading spiked – but only to continue a broader return to physical bullion now holding steady since the start of 2015.
By weight, BullionVault users in July added to their aggregate holdings for the sixth month running – the longest such run since the first half of 2012.
Client gold vaulted and reconciled in public
and recoin the user's choice of London, New York, Singapore, Toronto and Zurich grew to more than 34.2 tonnes, breaking above 1.1 million ounces for the first time.
Prices down, demand up? Long-term gold and silver investors are positive on these 5-year bargains.