Gold Mining Stocks Struggling
Tuesday, 7/31/2018 09:01
After carnage in metals, miners due rebound...
ALTHOUGH precious metals have not rebounded too strongly yet, the long awaited summer rally could be underway – at least in gold – writes Jordan Roy-Byrne at TheDailyGold.
Gold is oversold and its sentiment is overly bearish. But it is holding important support in the low $1200s.
Silver has begun to rally after breaking down from a triangle consolidation. The gold stocks held up well during recent carnage in the metals but are struggling around very important support levels. The nature of their potential rebound is important as they try and maintain current support.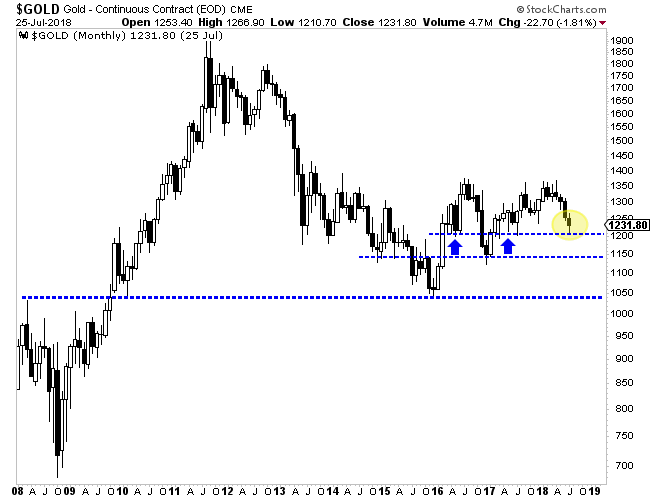 In recent days gold has bounced from strong monthly support at $1200-$1210 per ounce. As the chart shows, that level was monthly support in early 2016 as well as the middle of 2017.
It is the key support level between gold and roughly $1140 per ounce. Look for this support to hold at least into September.
On the sentiment front, last week gold's net speculative position hit a two-year low as a percentage of open interest. Within the context of a downtrend, this is the kind of sentiment that can be deemed as extreme. Pair that with the strong monthly support at $1200-$1210 and it's likely gold holds this level for at least a few months.
Turning to the gold stocks, while they have held up well in recent months, the technicals suggest some potential trouble if they do not rebound soon.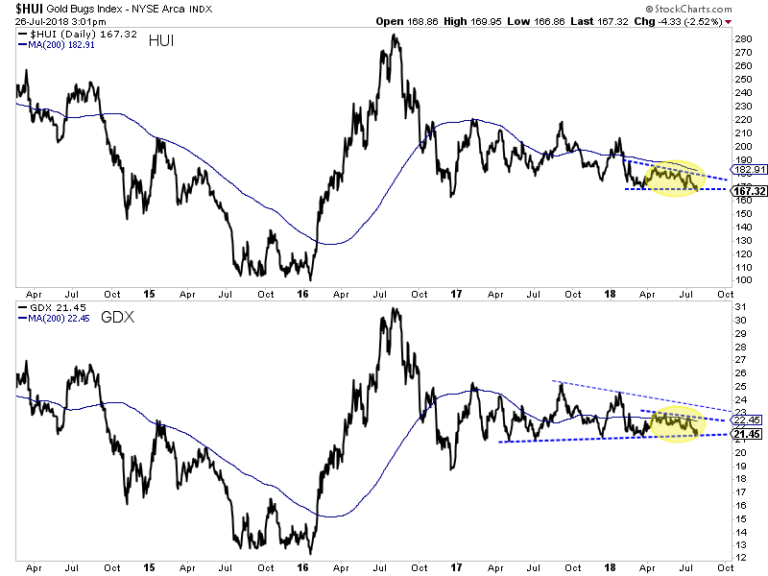 The HUI Gold Bugs Index which contains only gold miners (no royalty companies) is losing key support within a descending triangle pattern. The pattern projects to a downside target of 149. Upon a close below 163 (which is less than 3% away from current levels), the HUI would hit a 2.5-year low and not have good support until 140.
GDX meanwhile is showing less weakness but is vulnerable to a decline if it loses support at $21. If that break comes to fruition then GDX has a measured downside target of roughly $16.50-$17.00.
Even though the miners have struggled and gold has not rallied much in recent days, the path of least resistance for the remainder of the summer should be higher. Gold should continue to hold support in the low $1200s and eventually rally back to $1260 perhaps.
While the gold stocks are struggling to hold above support, I'm not sure there is enough selling pressure at the moment to drive them lower.