Western Gold & Silver Investment Turns Asian
Tuesday, 12/01/2015 10:05
Private gold and silver investing rebounds as prices hit 6-year lows...
GOLD and silver investment amongst private individuals is showing 'price sensitivity' akin to Asia's more traditional buying patterns, writes Adrian Ash at BullionVault.
Ahead of this month's long-awaited decision on the US Fed's long-delayed "lift off" from zero for Dollar interest rates, November's slump in precious metals prices saw private investors in the West take advantage of new 6-year discounts and reverse October's move towards selling.
That's according to our latest Gold and Silver Investor Indices. Both data series track the number of buyers over sellers across each month on BullionVault – the world's largest physical gold and silver exchange online, where more than 4,500 deals in vaulted bullion are matched every week.
Both physical investment indices continue marking how Western households – who account for 89% of BullionVault's 58,000 users worldwide – continue behaving more like Asia's price-sensitive buyers, easing back when prices rise, and showing their strongest increases when prices fall hardest.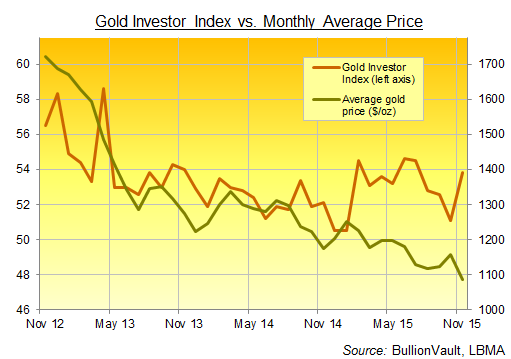 Built solely from investor trading on BullionVault (as explained in
this article for the LBMA's quarterly magazine
), the Gold Investor Index last month jumped from October's near half-decade low of 51.1 to read 53.8, its highest level since holding near 2-year highs in July.
Coming as gold's monthly average Dollar price fell 6.3% – its fastest drop since the crash of spring 2013 – that was the fastest percentage rise in the Gold Investor Index since February.
A reading of 50.0 would signal that the number of net buyers across the month equalled the number of net sellers exactly. Some 89% of BullionVault's 58,000 users live in Western Europe or North America.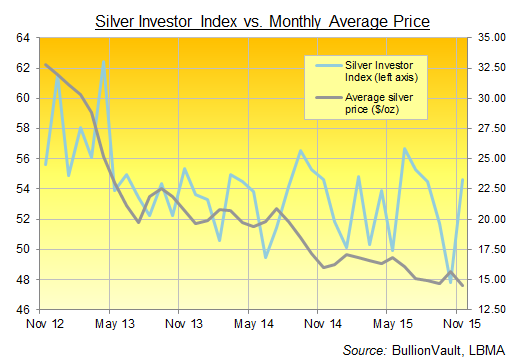 The Silver Investor Index meantime leapt in November at its fastest pace in 2.5 years, reaching 54.6 from October's new series low of 47.8 as the number of people adding silver during November rose by 51% to match the last 12 months' average.
The number of people selling silver more than halved from October's new 2015 peak, falling to the lowest level on BullionVault's data since September 2010.
This response stands in stark contrast to money managers, now selling and shorting precious metals at these new 6-year lows.
And alongside active private traders now selling spikes and buying drops, longer-term investors as a group continue to build their physical holdings at these lower prices.
BullionVault clients bought gold overall in November for the tenth of the last 12 months, adding 0.2% to reach new record holdings above 34.4 tonnes, all vaulted in the individual user's choice of New York, London, Singapore, Toronto or Zurich (and all reconciled in public each day with BullionVault's unique
Daily Audit online
).
Silver holdings rose for the eighth month running, growing 0.7% to a new record above 539 tonnes, 10.5% greater by weight from this time last year.
Smart trading? Long-term accumulation of precious metals is commonly associated with the massive Asian consumer markets, notably India and now China, rather than with Western households. And it remains true that gold and silver investing is far from universal amongst private individuals in either North America or Western Europe.
But after the financial crisis of 2007-2012 answered the
New York Times
' 1999 question "
Who needs gold when you've got central bankers?
" with a resounding "Everyone!", the unique investment appeal of physical gold and silver continues to spread.
Un-inflatable and un-bustable, physical bullion owned outright gives you price risk, yes. But it removes that portion of your savings from the risk of default – a true rarity amongst instantly tradable assets which will prove a sure must-have for money managers as well as private investors again in due course.
With chatter growing louder meantime throughout 2015 about the US Fed marking an end to its zero-rate policy – potentially raising bullion's opportunity cost over holding cash in the bank – private investors using the world's largest gold and silver exchange online have increasingly eased off when prices rise, and grown their personal holdings on price drops.
This pattern most clearly began with the price crash of spring 2013, as the charts show above. Measuring the number of people growing their gold holdings over the number of those selling, rebased as a proportion of all gold owners at the start of the month, the Gold Investor Index jumped to 58.6 – its highest level since the gold price peaked for Dollar and Sterling savers in late 2011.
The difference in 2015, however, is that BullionVault users overall have continued adding metal overall to their aggregate holdings. Whereas the price crash of spring 2013, in contrast, saw net liquidation – driven by selling from larger customers who'd bought during the decade-long bull market – equal to 3.6% of what had been then-record total client holdings just below 33 tonnes between April and end-June.
Looking ahead, many analysts and money managers expect a US Fed rate rise from zero to dent gold and silver prices again, if only by raising the Dollar's value against other currencies. But this month's decision may present as much risk to the Fed's credibility as it does for further lows in the gold price.
Delaying again after September's loss of nerve would hit confidence badly. But lift-off will still leave US interest rates well below even today's low rate of inflation, and beg the question of how long another baby-step rise might take after seven years stuck at zero.
A growing number of private investors in the West are tired of waiting already. Asia's deep gold and silver savings habit shows how precious metals' investment appeal grows strongest when experience teaches you not to rely on your currency holding value.