Covid Crisis Spurs Record Gold and Silver Investing from Record First-Timers
Tuesday, 6/02/2020 10:19
Record demand, record numbers of first-time gold and silver investors...
The CORONAVIRUS CRISIS has spurred record demand from private investors for both safe haven gold and industrially-useful silver, writes Adrian Ash at world-leading precious metals marketplace BullionVault.
Together with strong demand for platinum, plus another month of price gains for all 3 precious metals, that saw the total value of BullionVault's client holdings rise above $3.0 billion (£2.4bn, €2.7bn, ¥323bn) at the end of May, up 23.7% so far in 2020 and 51.1% greater from this time last year.
That growth has been led by a record surge of new investors, with the number of people using
BullionVault
to buy physical gold, silver or platinum for the first time rising 413.5% between March and May from last year's 3-month average and beating the previous record of August to October 2011 – peak of the global financial crisis – by 4.7%.
While there's nothing so awful it can stop the stock market betting on a post-lockdown recovery which may never come, the number of people seeking stability and diversification with precious metals has never been greater.
Gold's timeless use as the ultimate store of value shines out amid 2020's rolling crises. Today's unprecedented central-bank and government stimulus put a spotlight on silver's stronger industrial use and its potential as a solid inflation hedge."
Since the Coronavirus Crisis reached Europe and North America at the start of March, users of BullionVault have bought 3.8 tonnes of gold net of sales, the heaviest 3-month inflow in our West London fintech's 15 years of operation.
That has expanded user holdings of the 'safe haven' precious metal by nearly one-tenth (9.7%) to reach a fresh all-time record of almost 42.9 tonnes worth $2.4bn (£1.9bn, €2.1bn, ¥256bn).
All stored and insured in high-security vaults in the client's choice of London, New York, Singapore, Toronto or (most popular) Zurich, that privately-owned stock of gold is larger than all but 46 of the world's 127 reported national gold holdings, and greater than all but 13 of the 75 gold-backed ETF trust funds tracked by the mining industry's World Gold Council.
Demand for silver – which finds three-fifths of its global end-use demand from industry (versus less than one-tenth for gold) and which BullionVault users trade free of VAT sales tax, saving more than one-fifth against the cost of coins or small bars bought for personal possession – also set a 3-month record between March and May.
Totalling 190.0 tonnes, that took customer holdings of the metal up by more than one fifth (22.8%) to reach a fresh all-time high above 1,023 tonnes worth $579m (£470m, €520m, ¥62bn).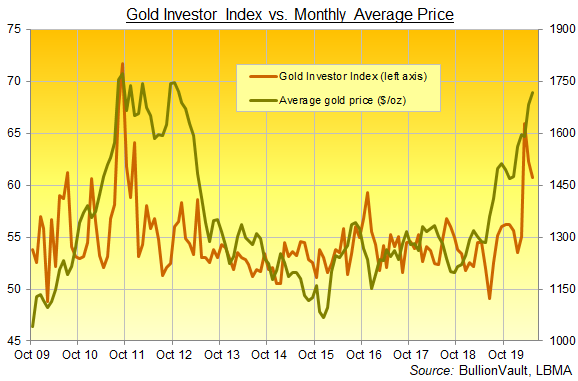 Gold prices
rose in May to new 8-year highs against the US Dollar and set fresh all-time record highs in terms of all other currencies except the Japanese Yen.
That saw the number of people ending the month with more gold than they started retreat further from March's new all-time record, down 16.4% from April.
The number of gold sellers fell harder however, down 23.6% for the month.
Together that put the Gold Investor Index – a unique measure of actual investing behaviour in physical bullion – at 60.7 in May, down from 62.3 the month before and 65.9 in March, an 8.5-year high.
The
Gold Investor Index
would read 50.0 if the number of net buyers across the month matched the number of net sellers exactly. Calculated since October 2009, the series shows a lifetime average of 54.9, and it has only read above 60.0 for 3 months running once before, in mid-2011.
May 2020 also marked the 3rd month in succession that BullionVault's online and smartphone gold markets saw more than 3 buyers for every 1 seller. One-fifth of May's gold sellers were 2020 buyers, taking a quick profit. People joining over the last 5 years accounted for 51.1% of May's sellers on BullionVault, which first opened to the public in April 2005.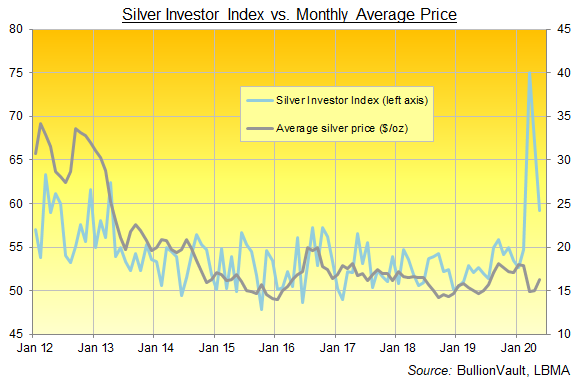 Having also jumped at a series-record pace in March, the Silver Investor Index also retreated for a second month running in May, easing to 59.2 from 67.0 in Aprill.
The number of silver buyers across the month fell 21.7% from April as the number sellers jumped by 41.3%, encouraged by May's 14.7% price rise in US Dollar terms – the fastest 1-month gain for silver in just over 4 years.
Demand for
platinum – mostly used
in diesel engine autocats, and which sank in price by one-third last month before rallying but remaining near its cheapest since 2003 – jumped to boost client holding by 47.4% at 1.4 tonnes worth £27m (US$33m, €30m, ¥3bn).
While BullionVault has now made investing in precious metals cheaper, safer and easier for more than 15 years, this dreadful pandemic and the social lockdowns it has spurred highlight the advantages of trading securely vaulted metal you can buy or sell instantly without needing to leave home.
Coin and small-bar retailers have been unable to open their stores, re-stock their shelves or even buy back from customers wanting to sell. In contrast, our live trading apps for smartphone and online have enabled record numbers of private investors to access the deep liquidity, security and tight pricing of the professional wholesale market regardless of lockdown.
The secure vaults and logistics providers we use to handle and care for client property have of course faced challenges from reduced airfreight and the need to apply social distancing, but they have continued to operate through the economic shutdowns in Asia, Europe and North America.