Gold and Silver CoT Say 'Bull Market'
Thursday, 12/12/2019 11:56
Commitment of Traders in precious won't back off...
WE ALL
know that the gold and silver Commitments of Traders are very extended,
writes Gary Tanashian in his Notes from the Rabbit Hole.
Current levels of commercial net shorts – and on the other side, large speculative net longs – tend to be in place at tops in the metals' prices.
But the metals topped in the summer. So what does that tell us?
For one thing it tells us that bull market rules are different from bear market rules, as per this post from August when gold was topping.
"Listen sports fans, I just call 'em as I see 'em. The Commitments of Traders for gold is as extended as it has been lately and open interest is significant. Speculators are all-in here and while we note that bull market rules are different than bear market rules, extended is extended. Gold is vulnerable to pullback by this measure, especially since the gold price is in the target zone we laid out months ago."
Gold dropped about 100 bucks an ounce from the time of that post and yet the CoT are not cured.
Talk about bull market rules!
CoT was and still is a reason for a level of caution, but as noted last weekend in NFTRH 579 the charts of several miners we track (and I own) belied a cautious stance.
"The way things appear to be setting up is that the miners are preparing to be a 'go to' play when the stock market party burns out. Despite the caution begged by the gold and silver Commitments of Traders, the chart of HUI, the Gold/SPX ratio on page 30 and the fact that Friday was a holiday shortened affair, the overall look of our charts this week is constructive to bullish..."
HUI has gone on to have a thus far bullish week this week with a move to break the post-summer consolidation and as we've noted in NFTRH, the HUI/Gold ratio has remained intact and is also now in a bullish stance. It's a leader, as is the Silver ETF vs. silver. Get a load of this.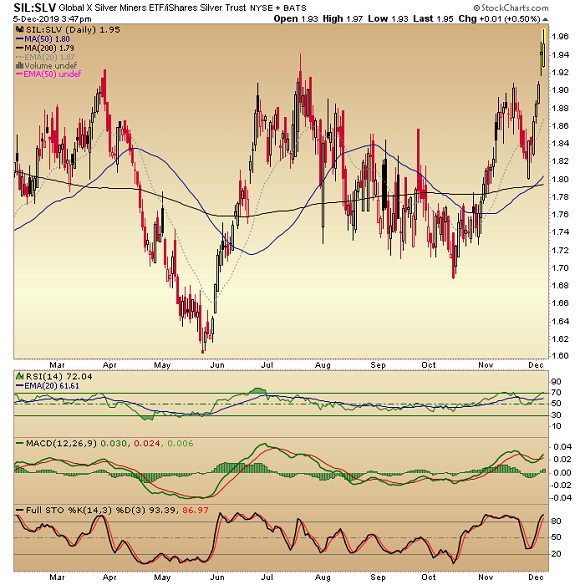 As for the stock charts, NFTRH 579 included 30 of them, many of which are smaller exploration plays and need to be kept for subscriber review only, including a few producers and a royalty, each of which I own.