Tuning Out the Bromides
Monday, 9/18/2017 09:01
Gold prices fell back last week because...
On AUGUST 11 we noted the potential and reasoning for anticipated pivots in the US stock market and the gold sector, writes Gary Tanashian in another Note from the Rabbit Hole.
As for the stock market, several reasons were put forward in support of a 2nd half of September through Q4 danger period, for a correction (no need yet to talk bear market because that would be pure promotion of an agenda). Please note that standard technical analysis was not among those reasons. The stock market was then and is now, in an uptrend across all important time frames.
The reasons for the correction view noted in the article ranged from the S&P 500's 30-month cycle, to the Fed's Funds cycle and its proximity to the 2yr yield (this has not yet made a bear signal) to the US Dollar's potential to rally (still waiting on that one) to a rough seasonal patch that begins in mid-September.
Well, last week was mid-September and da boyz wuz back from da Hamptins and the rest is up to the market's nature to take its course.

Several other minor indicators ranging from wobbling market breadth to once again intact investor complacency to the fact that the major US indexes have all acquired and exceeded our big picture targets that are also consistent with the next couple of months being seen as a period of vulnerability.
But again I stress to you that I, often thought of as a 'chart guy', also note that the stock market is completely intact to its bull trends across all time frames.
We've also noted that flying words and flying missiles were not a reason for bearishness on stocks and as for gold, they are most definitely not a reason to be bullish. So today it is reassuring to see the gold sector, having stopped right at our short-term upside targets.
The gold sector is now ignoring the geopolitical noise as it works a thus far routine – and expected – correction to clean out momentum players and those who let emotions get the better of them as they piled into gold due to the perception that we'd all be squatting in little Unibomber shacks trading gold and silver for eggs and survival goods before too long.
Below is the monthly chart of gold from a recent subscriber update. Anything look abnormal to you? I didn't think so. If you hear anyone using the phrase "gold smack down" when talking about the current pullback, run, don't walk from that person's biased view.
You see, in some corners of the gold "community" there is always a reason that gold went down, but it is never just because it was supposed to go down. Folks, amid the hype of North Korea's nuke lobs and the gold price's proximity to a (resistance) line that is also a dividing line between a bear and bull market, it always was going to find resistance and pull back here. No ifs, ands or buts.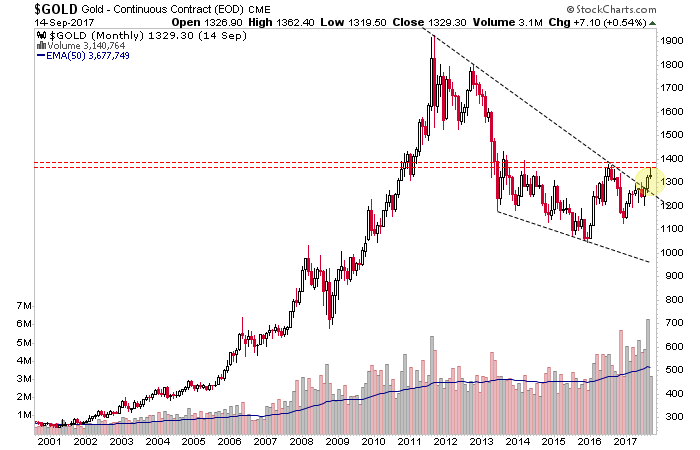 Understand that there are so many moving parts to this big picture market pivot potential, but in general the stock market must follow the correction script for the counter-cyclical gold sector to assume a real bull cycle. There is not going to be one without the other.
The work of tuning out the bromides, media fluff and just plain lazy analysis is ongoing. In NFTRH I handle that for you and keep our plans fresh and on track...and we have been coming up with some great trades to boot.
The market does not need to feel miserable. You take what it gives you and then when the odds shift greatly in favor of a given view, you drop the hammer and really make the gains.
By my calendar, today, September 15 was about as "mid-September" as you can get, and we began the potential pivot period to what comes next. Meanwhile, balance and a quality Bullshit Detector at the ready!