The Ebb and Flow of the Gold Price
Thursday, 8/09/2012 17:43
Gold is risky – and was risky at $300 an ounce in 2001...
ASSET CLASES go up and down, writes Byron King for Whiskey and Gunpowder.
Precious metals are, of course, another asset class. They move with the economic tides. In the past 30 years, gold has rocketed up and plummeted down.
At several points in the past 30 years, things were so bad that gold sellers were like the proverbial Maytag repairman. They led lives of quiet desperation about which no one cared. Because like the late Rodney Dangerfield, gold got no respect.
Heck, between 1999-2002, the British government sold a large amount of its national gold, nearly 395 tonnes (metric tons), for about $275 per ounce. The Bank of England used the proceeds to purchase (ahem) "high-yielding" assets, like bonds. I suppose it seemed like a good idea to somebody.
But really. In hindsight, how dumb was that? The British used to fight wars for gold (remember the Boer War, anyone?) Now they're selling gold to buy bonds? They used to hang people for lesser crimes.
Then precious metals staged a stealth rally (stealthy to the mainstream media at least.) It was not front-page news, until gold touched the $1,000 mark in March 2008. After which the price retreated 25% during that year's market meltdown — even at this price gold was still almost three times what the Brits took in less than a decade ago.
All said, as I'm sure you know, we've had a 10-year bull market in gold. Take a look a gold's massive move: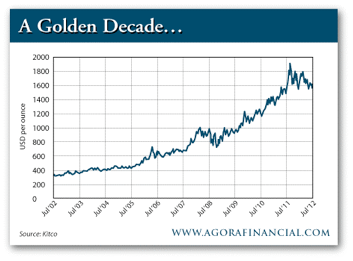 Nice chart, eh? It's hard to argue with a chart like this. Sure, there are movements up and down. There's the occasional pullback, such as a few tough months in 2008-09 and our current correction since 2011's high-water mark. But the long-term trend has been up.
Just on this chart alone, there's a case to be made for holding physical gold. In fact all you needed to do was hold the honest to goodness metal in your hands for a decade and you could have multiplied your money nearly seven times over! That's the power of holding physical metal.
Still, people give me grief all the time about recommending and holding gold. "Oh, gold is risky," they say.
"Yes, of course," I reply. "Gold has been risky since I started buying it at $300 per ounce, back in 2001."
Indeed, gold is risky today. From its current level gold could decline. That would be if there's a massive market crash, and people have to sell gold to raise cash to pay off their margin calls.
Remember 2008? Gold sold down from about $1,000 to about $750. Still, that 25% haircut was mild, compared with what happened to the rest of the market. And through it all — the crash and turmoil — gold remained liquid. Somebody bought that gold. So gold is good, especially when people need fast cash.
Then again, looking ahead, gold has a huge upside. The Gold Price could accelerate and levitate up to $2,500 per ounce. Or maybe even $5,000.
In the here and now, all we really know is that gold has had a nice, strong long-term rise. It's another way of saying that the Dollar has had a sad, long-term decline in value.
So back to that "risk" idea. If you want real risk, just keep your wealth in pure, green-ink, paper cash. Trust the politicians and central bankers, right? No, of course not.
That decline in value of government-issued currency isn't just a US thing, either. It's global. We're dealing with world-spanning monetary mismanagement and stealthy inflation.
How bad is it? Last year, one senior Chinese official was caught on tape saying that "every province in China is a potential Greece," due to overspending, bad loans and fiscal mismanagement. And that's in China, where they shoot people for engaging in economic mismanagement.
As long as the world's politicians spend more than their respective countries can afford, this gold-investing stuff is kind of easy — Buy Gold, hold gold, wait.
Ready to Buy Gold?...