Price Crash Unleashes Western Household Interest in Gold
Tuesday, 5/07/2013 09:08
Latest data from the Gold Investor Index shows the jump in new buyers...
IS GOLD's long bull market over, or is it a raging buy at these prices? asks Adrian Ash at BullionVault.
The contrast between professional money managers and what private households think couldn't be starker at present.
Gold holdings in exchange-traded trust funds – a favored vehicle for portfolio managers wanting gold exposure – have dropped 17% from December's record highs. Sentiment amongst private investors, on the other hand, hasn't been this strong in 16 months.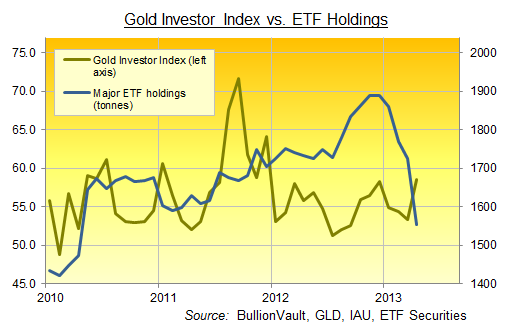 The Gold Investor Index measures the balance of buyers and sellers on Bullionvault.com, the world's largest provider of direct bullion ownership. So this isn't merely a survey of intentions. It shows actual behavior by self-directed investors, who choose either to buy, hold or sell physical gold bullion vaulted in their choice of New York, London, Zurich and Singapore.
A reading of 50.0 would signal a perfect balance of buyers and sellers. The index peaked at 71.7 in September 2011, and hit a 6-month low of 53.3 this March. And as you can see, the Gold Investor Index jumped to 58.6 in April, hitting its highest level since December 2011, after the gold price delivered its worst 1-month drop since July 2010 for Euro investors, the worst since August 2008 for Dollar investors, and the worst since October 1990 for UK investors.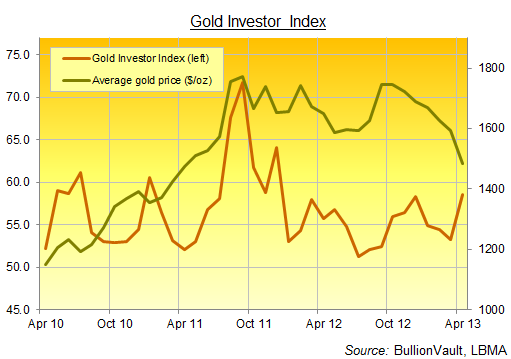 Why the disparity between private households and what professional money managers are doing? It's not only exchange-traded trust funds which have seen a turnaround in Wall Street and City sentiment towards gold. So-called "Large speculators" in gold futures and options have also slashed their bullish exposure to gold, primarily by raising their betting against it. And more plainly still, so has the so-called "Dumb money" of smaller derivatives players – those private investors and stay-at-home traders using leverage to bet on gold prices going up or down.

Whatever analysis has led the professional consensus (and the Small Spec's who follow it) to change tack, private households don't buy it. People tend to buy gold when they fear trouble ahead, and gold's safe-haven appeal clearly continues to shine, despite the worst price crash in 30 years in mid-April.
Gold's appeal, then, must stand aside from price, and spring 2013's new buyers are clearly looking beyond that slump. Perhaps to them, as to the vast majority of physical bullion owners I've met and spoken to over the years, gold remains undiminished as an escape from banking and credit risk, as well as a defence against today's long-term inflation threats – quantitative easing, zero interest rates and big government deficits.
Now, while this surge in new business is already easing, it shows the strength of pent-up Western household interest in physical bullion, which was previously deterred by higher prices. The response to April's sharp fall is redolent of Asian gold demand. Developed-world savers didn't chase prices higher (like professional money managers did) in late 2012. Instead, they've opted to buy the drop.