Gold Down, for Now
Wednesday, 4/24/2019 15:01
Outlook 'extremely attractive' says StanChart...
LAST WEEK the price of gold fell to a 2019 low of around $1270 an ounce as the 10-year Treasury yield ticked up and US Dollar stayed at elevated levels, writes Frank Holmes at US Global Investors.
Nevertheless, some analysts continue to see this as an "extremely attractive environment," in the words of banking firm Standard Chartered.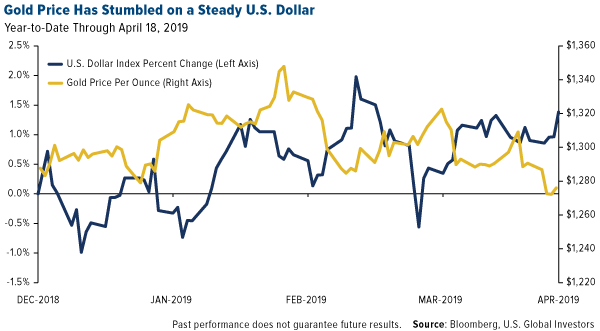 "We are very constructive on gold, both within our strategy teams and within our commodity research teams," Standard Chartered's Eric Robertson told Bloomberg.
"Even with the recovery that we've seen in equity prices and nominal bond yields over the last few weeks, real or inflation-adjusted yields remain extremely low. And that's a better indicator for gold."
In a report last week titled "Gold lives up to the hype as a safe haven," research firm Capital Economics said it sees gold rallying to $1400 an ounce or more by mid-2019 on equity weakness.
"Given that we expect the S&P 500 to drop by roughly a fifth this year, we think gold's safe-haven credentials will soon come to the fore again," says commodities economist Ross Strachan, who goes on to explain that in seven out of eight times since 1990 in which the S&P declined more than 10% over a prolonged period, the price of gold rose 7.2% on average.
Gold has traded down meantime following news that Venezuela sold as much as $400 million of the metal, the South American country's only remaining liquid asset. This comes after Venezuela opposition leader Juan Guaido in February urged the UK not to send cash to President Nicolas Madura upon sale of the country's gold reserves, held in the Bank of England's vaults.
The recent sale could mean that President Maduro has found a way to sidestep sanctions, according to Bloomberg.
The report also points out that Venezuela's central bank "has been operating with what it calls an emergency team of only about 100 workers of about 2,000 since a power outage left its headquarters without running water." What Maduro has done to this once prosperous country and its people is nothing short of tragic.