Why Hold Gold?
Tuesday, 2/12/2019 09:01
Cos your portfolio might need it, that's why...
EVERYONE is getting bored waiting for the gold price to take off, writes Dave Forest, editor of Doug Casey's International Speculator, in Bill Bonner's Diary of a Rogue Economist.
But there's good reason to believe we'll see it pick up again soon. That's because owning a hard asset such as gold is a time-tested way to protect wealth during troubled economic times.
Right now, we're nearly 10 years into the current bull market on Wall Street. As this bull market gives way to the next bear market, gold is going to be a great asset to have in your portfolio.
Here's why...
Hard assets don't carry any counterparty risk. Unlike a stock or a bond, you don't depend on someone else's promise to pay. So you don't have to worry about the issuer going broke, as so often happens in a financial collapse.
It's a subject my team and I did a deep dive on in the most recent issue of International Speculator. We looked at how different metals performed in the last four financial crashes – the Japanese meltdown (1990-1992), the Asian financial crisis (1997-1998), the dot-com bubble (2000-2002), and the Great Financial Crisis (2007-2009).
We then took the metals that have comprehensive historical data available: gold, silver, platinum, palladium, copper, zinc, vanadium, tin, nickel, and aluminum.
And we plotted their performance during the three "acts" of each crisis...First, one year prior to the crisis. Second, the period during the crisis. And finally, one year after the crisis.
Our analysis revealed which metals were the best stores of value during a financial panic.
Let's just focus on the first five metals here – gold, silver, platinum, palladium, and copper. Those are the ones you will likely be most familiar with.
Here's how they performed over the three acts of previous crises...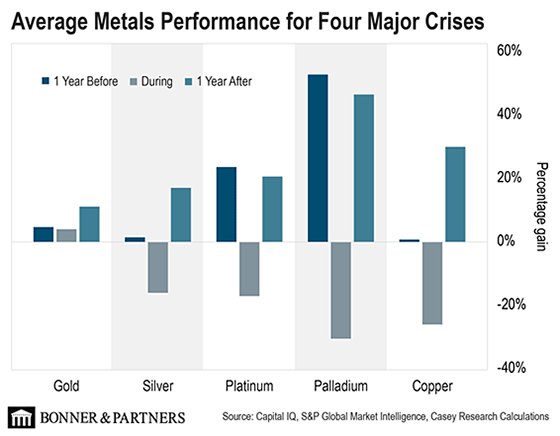 As you can see, gold is the way to go during uncertain times.
During the last four major financial crises, gold was the only one of the five metals that increased in value during a crash (gray bars on the chart). It gained an average 3%.
That may not sound like a lot. But remember, in a financial crisis, most of your stock portfolio is going to be taking on water.
Gold also delivered gains before (dark blue bars) and after (green bars) the crashes – rising an average 4% in the year prior to a crash, and 10% in the year after.
So you can see why gold is the safest place to be in uncertain times.
It holds up consistently well during financial panics. Which is why it belongs in everyone's portfolio.