Epic Reversal in Commodities
Friday, 1/09/2015 09:27
Gold found 2014 support where oil didn't, second-best currency only behind the Dollar...
IF YOU
want to know what happened in 2014 with regard to gold and oil, it's important to appreciate the inverse relationship between the US Dollar and commodities,
writes Frank Holmes in his blog at US Global Investors.
The following chart is a good place to start: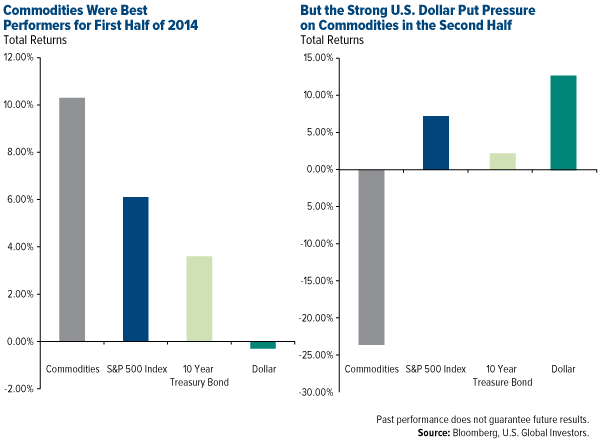 Whereas total returns for the S&P 500 Index and 10-Year Treasury bond stayed relatively stable throughout the year, commodities and the US Dollar both made an incredible about-face starting around late June, early July. If you don't factor in China's Renminbi using purchasing power parity, the Dollar is the world's strongest currency.
As I've written about on multiple occasions, this has weighed heavily on the commodities we track very closely and report on here at US Global Investors, especially gold and crude oil. According to Bullionvault's
annual asset performance table
, in fact, 2014 was the worst year for commodities since 1986, when they gave back 8.85%.
It should come as no surprise that oil dominated the news in the second half of 2014. Since its peak in June, when West Texas Intermediate (WTI) crude was priced at around $105 per barrel, oil has tumbled nearly 50% to settle in the mid-$50s. We haven't seen a decline such as this since the financial collapse of 2008 and 2009.
So how did prices get here? How did they fall so steeply, so unexpectedly?
It's been a perfect storm, to be sure. For one, the US shale boom has brought about what some call an oil glut in the market. The Saudis have resisted oil production curbs with the intention of undercutting the world's competition, namely the US, Russia and fellow members of the Organization of the Petroleum Exporting Countries (Opec)
.
Global growth and the Purchasing Manager's Index (PMI) are also cooling, leading to tepid demand for oil. As I've mentioned on numerous occasions, when the one-month moving average for the global PMI falls below the three-month moving average, WTI crude has fallen 100% of the time six months later. Though past performance can't predict future results, history illustrates a convincing trend.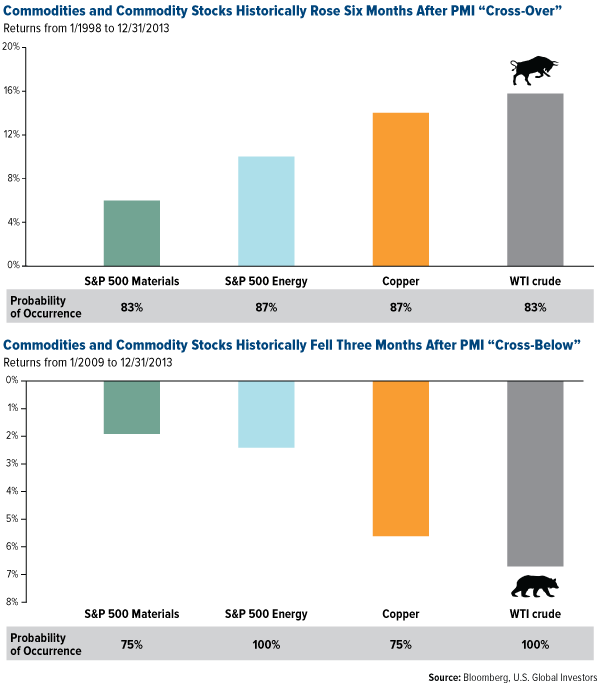 And finally there's the strong Dollar, which has historically put pressure on commodities, most notably crude.
Granted, battered oil prices have led to cheap gasoline, giving consumers all around the globe a welcome tax break this holiday season – a $330 billion tax break, to be exact.
But many oil companies involved in hydraulic fracturing, which is a pricier process than more conventional drilling methods, are starting to feel the pinch. Several companies have already been forced to temporarily close rigs in pricier shale regions, including the Eagle Ford in Texas and Bakken in North Dakota.
As calamitous as this might appear, there are still investment opportunities aplenty. In this recent Frank Talk, I took a contrarian view, arguing that, because oil stocks are currently priced so reasonably, now might be the time to pick up some exposure to this space. As I wrote:
"For far too many investors, by the time they gain back the confidence to put money into oil stocks again, the rally might have already taken off, making it challenging to capture the full benefit of the upswing."
And there's reason to believe that prices will normalize sooner rather than later. Brian Hicks, portfolio manager of our Global Resources Fund (PSPFX), stated that "oil prices are below where they should be, and hopefully they'll start gravitating back to the equilibrium price of between $80 and $85 a barrel."
Like oil, gold was punished in the second half of the year because of the strong Dollar. In the following chart, from an October Frank Talk, you can see just how much of an impact the greenback has had on the yellow metal this year alone: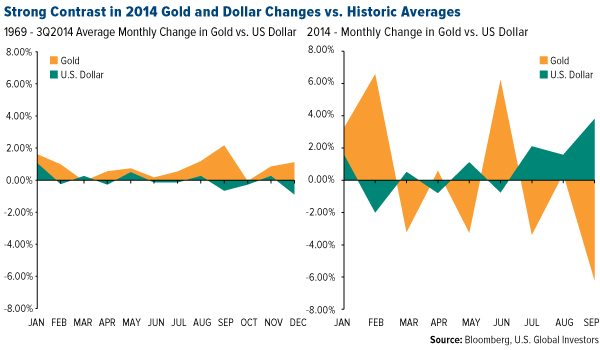 In a Frank Talk posted in June, I wrote:
"There is always an emotional bias against gold, whether it is soaring high or dipping low, and that is why it's important to manage these emotions when positioning a portfolio. At US Global Investors we look objectively at the action of both gold stocks and gold bullion by monitoring these long-term data points and paying attention to buy and sell signals based on the trend of mean reversion."
This, of course, was back when gold bullion was priced at above $1300. Since then it's slipped nearly 10%, which might have discouraged some gold bugs.
Yet gold was actually the second-best-performing currency of the year, second only to the US Dollar – against which it slipped 0.2% for 2014.