Gold Mining Stocks: Bottoming Out?
Wednesday, 6/13/2012 17:42
The jury's still out...but there is more evidence to ponder...
BEAR MARKETS do not last forever. They just seem like they do in real time, writes Gene Arensberg for GotGoldReport.
The worst bear markets can last far longer and do more damage than all but the most grizzled veteran traders are mentally prepared for. That applies to even the Big Miners, but smaller, less liquid and more speculative issue bears can take that same idea to wild extremes.
Our best case in point today is the Canadian Venture Exchange Index or CDNX which is still grinding out either a bear consolidation or a sure-enough bottom formation as shown in the simple chart below.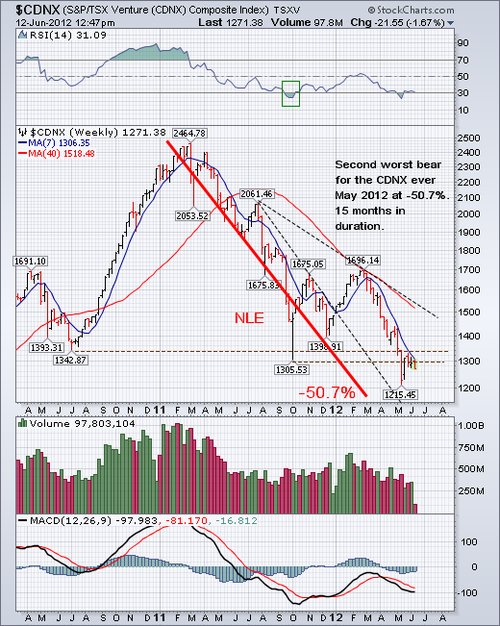 The figurative jury is still out deliberating the bottom verdict evidence, but all of the evidence is no longer all one way (no longer all bearish). Consider for example the "V" shaped, bottom looking formation evident in the much larger, Big Cap Miners that populate the AMEX Gold Bugs Index or HUI.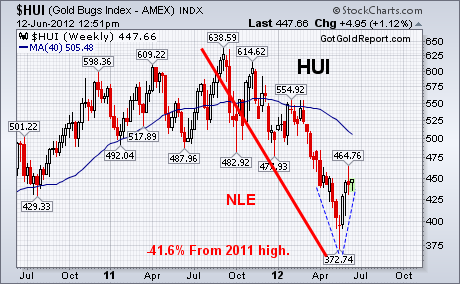 The "jurors" have a possible capitulation to deliberate for the 'Bigs' after a stunning, confidence destroying nine-month plunge from the HUI of as much as 41.6% (a HUGE plunge for such a large index). And not one of the jurors likely appreciates that the HUI has already recovered as much as 24% since the April-May near-panic nadir of 372.74, but the HUI has bounced that much, believe it or don't.
Or the jurors can consider the further 'evidence' of the CDNX's arguably larger cousin, the Market Vectors Junior Gold Miners Index ETF or GDXJ now showing a promising "V Bottom" looking formation following a blood curdling cascade sell down which loped off as much as a nasty 43% just since February; part of an overall 56.9%, 14-month whipping for the small and mid-tier miner ETF.
Did we say "whipping?" That's more than a whipping – it's a crash. All of us involved for the past 14 months have been involved in a slow-motion, teeth-grinding crash of historic proportions. We are part of history. (Small consolation to many, we know.)
It was not very long ago that neither of those two "relatives" of the CDNX showed any "help" or evidence to support the case before the "CDNX bottom jury." Now both do.
So the jury has more evidence to consider than just the 14-month wicked price drubbing for The Little Guys.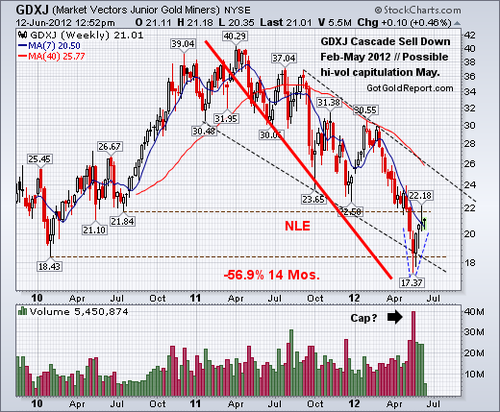 We haven't overlooked the fact that this is June which is typically a month of poor price action and even poorer liquidity for The Little Guys and likely neither will our figurative jury. We haven't overlooked the fact that volume for the CDNX remains abysmal, more in keeping with a buyer's strike than a more friendly volume reversal. But we do try to keep in mind that buyer's strikes and extended periods of very low volume are when some of the best buying ops arrive.
We do try to keep in mind at all times that The Little Guys are some of the most volatile, most dangerous stocks to trade there are. But, having done this gig for longer than we care to admit, we can hunker down and weather protracted, brutal, wicked, seemingly insane bear market Negative Liquidity Events (NLEs) with the best of them.
Not incidentally, the current bear for the CDNX is officially the second longest period of consistent weakness since 2001 – the bottom of the 20-year gold bear market. If we mark the beginning of this (CDNX) NLE as March, 2011, it has begun its 15th month (unless the bottom proves to have been in May, in which case it was 14 months). By comparison, the all-time worst value and confidence destruction for the CDNX began in March, 2007 and didn't end until it "V Bottomed" in December, 2008 – a 21-month, nearly 80% bone crushing market from hell.
Versus the 2007-08 debacle, the current NLE example is a close second any way one wants to measure it. Value destruction: 79.9% versus today's 50.7%. Time: 21 months versus today's 15 months. Fear: Armageddon versus Europe-ageddon. Sentiment: Rotten on both score cards... We'll stop there because the point is made.
Gigantic, value destroying, confidence crushing cascade style full-blown bears are, as one might expect, pretty rare, but we have been given two of them in a very short time frame (just four years apart). People have spent entire careers on Wall Street without ever getting the kind of value devastating events we have been given to work with. (Although they do seem to occur with the Little Guys more frequently than with the Big Markets to be fair.)
The Little Guys have so far not convincingly broken the uber low volume bear yet. That's the bad news. But the news is no longer 'all bad.' The signs and signals we (and our fantasy bottom jury) review are no longer all terrible, as they were a month or two months ago.
Get the safest, vaulted Gold Bullion at the lowest prices with BullionVault...