Gold Mining in Peru
Thursday, 7/26/2012 12:54
A booming economy with well-defined mining laws...
IT HAS BEEN a tough market for junior Gold Mining shares over the past three years. But Peruvian mining stocks have outperformed the mining indexes. Peru is a booming economy with well-defined mining laws and a vocal mining protest movement that could be playing a constructive role to future development. In this interview with The Gold Report, Maria Belen Vega and Ricardo Carrión of Kallpa Securities in Lima, Peru, analyze the protest situation and clarify the role of mining as one of the leading sectors of the economy.
The Gold Report: Mining is big business in Peru, but recently there have been a lot of protests. Can you give us an update?
Maria Belen Vega: Regarding the importance of mining in our economy, it's important to highlight that mining is in the interest of government, society and Peru as a whole. Peru is a mining country. To give you some numbers, approximately 5.5% of gross domestic product comes from the mining industry without accounting for the supporting industry. Approximately 30% and 60% of total income tax collection and exports, respectively, come from mining. Also, mining accounts for around 60% of the Lima Stock Exchange's (LSE) main indexes.
Lima Stock Exchange Composition By Sector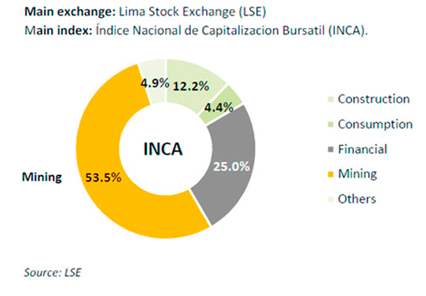 The protests started because activists understand that mining is a lucrative industry in Peru. Protestors feel that the communities are not getting their fair share of the profits. To give you an idea, the canon minero regulation establishes that 50% of the funds from income tax collection derived from the mining industry is required to return to the region in which the mine operates. If you take a look, most protests originated in the regions that should have received funds from the canon minero. While some local administrators live very well off these incomes, the investment made from these funds was either not yet executed or not profitable. So it makes sense that the communities want to receive some benefit from mining.
Gold Production in Peru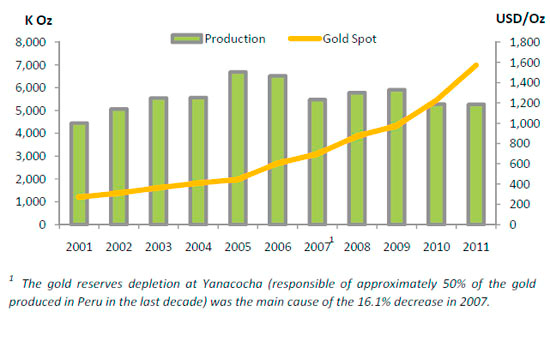 Another important issue regarding mining in Peru is water.
TGR: So that's freshwater supply?
Maria Belen Vega: Yes, water supply is an important issue. Most mining projects in Peru are located in the upper part of the Cordillera de Los Andes, which has a shortage of water. Mines can consume large amounts of water, which often comes from rivers or underground aquifers. The communities are concerned that mining could use too much of a scarce resource because their main activities are livestock and agriculture.
It is interesting to note that the mining protestors don't discuss pollution. Big mines in Peru are strongly regulated and some of them are listed on at least one international exchange. Artisanal miners are mine polluters. There is even a contagion effect where big projects become surrounded by informal miners who create serious pollution problems.
TGR: It sounds as if the opposition to mining is more about political issues and wealth sharing and not so much because of environmental issues.
Maria Belen Vega: Exactly. In Peru, the mining industry has done some of the work in infrastructure and healthcare that should have been done by the government (roads, hospitals, bridges, etc.) in the first place. Therefore, communities are not against the mining industry as a whole, they just want to have a bigger piece of the pie.
Geographic Distribution of Main Mining Projects in Peru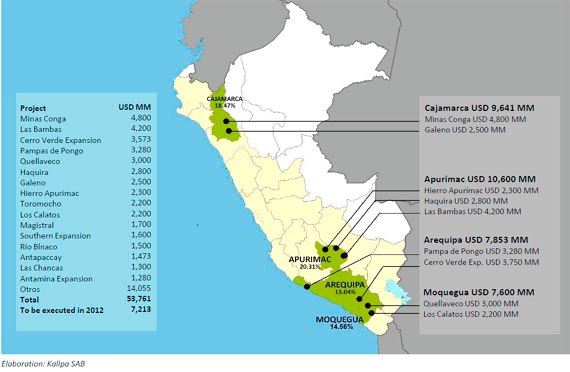 TGR: It sounds as if the central government is pro-mining. So are the local citizens, but they want more of the benefits. Where do the foreign investors fit into the picture? Investors need to get a fair return for the risk of investing in a mining project.
Ricardo Carrión: Taxes paid by mining companies are one of the largest sources of income for the government. As stated before, 30% of income tax collection derives from mining. The government can't afford to lose that income and it's fully committed to supporting investment in mining. Peru has approximately $50 billion (B) of investments in the mining sector, which is one of the drivers for the country's growth. The $4.8B Conga project is an example. The government has supported the company that owns it while working to improve the project from a social point of view. That is a win-win situation. The result is a better project overall. The government is mediating between companies and communities in a way that supports investment, growth and sustainability.
TGR: That was an example of a large company. Does the government also support smaller mining companies?
Ricardo Carrión: Yes, the government understands that without junior explorers, there won't be big mines. It's not that they are pushing exploration companies to make a discovery. We have clear exploration regulations that are friendly for foreign investors. Last year, Peru implemented new regulations aimed at junior companies. The new regulation is called "Prior Consultation." The regulation requires having an agreement with the community before starting exploration. This is not a big change because that is the way most companies have been doing business for the last decade, but now it is formally part of the Peruvian regulation. As before, without a "Prior Consultation" you can't do anything on the ground.
Copper Production in Peru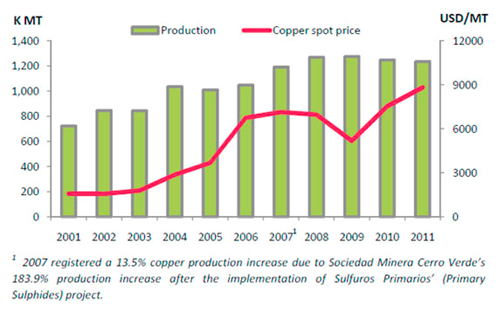 TGR: To wrap things up, can you summarize the mining investment situation in Peru? There are protests, but also positive developments that aren't widely reported in the North American investment markets. Maybe investors need to look past the sensational news, as there may be opportunities.
Maria Belen Vega: Mining is an important industry for Peru—the government and the people understand this. However, of the $53B in mining investments in Peru, only 3% is local. The other 97% comes mainly from China, US, Canada, Australia and Switzerland. Peru has a capital deficit for mining investment. That's why the Peruvian government is committed to mining and foreign investment. In time, the protests will be resolved between the companies, government and communities so that everybody will benefit from the industry. Everyone is aware that we need this capital, investment, jobs and development. Of course, foreign investors will also benefit from playing a part in the mining industry in Peru.
TGR: Thank you for your time.
Own physical Gold Bullion stored at unbeaten low costs in your choice of US, UK or Swiss vaults with BullionVault...