The First Thing in Good Gold Mining
Monday, 11/02/2015 11:07
The world doesn't need another 400,000-ounce deposit. What it needs is...
MARIN KATUSA is the author of the New York Times bestseller, The Colder War.
Over the last decade, he has become one of the most successful portfolio managers in the resource sector, such as his 2009 Fund Partnership (KC50 Fund LLC), which has outperformed the comparable index, the TSX.V by over 500% post fees.
Katusa has been involved in raising more than $1 billion in financing for resource companies. He has visited over 400 resource projects in more than 100 countries. Katusa publishes his thoughts and analysis at KatusaResearch.com.
Here Katusa tells The Gold Report why the most valuable resource in a mining company is often the people. Good management can attract the right investors and add value regardless of the market...
The Gold Report: You seem much more positive about gold right now than when we talked in June. Based on the price chart, and in the wake of the Federal Reserve's inaction at its last meeting, what's your thesis for gold for the rest of 2015?
Marin Katusa: As I said in the spring, I don't see the Fed raising rates this year. Using some simple game theory, for the Fed not to raise rates is the best decision. I still believe that. Gold has fared well compared to the price of the US Dollar, better than any other hard commodity. Gold is holding its own. The reality is, because the commodity markets are down, very little capital is being invested to replace the production of gold.
In the long run, I'm very bullish on gold. It's something I'm paying very close attention to through my fund. We've started writing checks on assets that I believe are very cheap and well priced in today's currency commodity markets and that I believe a major will want in its portfolio in a few years. Gold is the currency of kings and silver is the currency of gentlemen; it always has been, and always will be. When you see living legends such as Stanley Druckenmiller and well-known successful fund managers plowing hundreds of millions of Dollars into gold, it's obvious gold is appealing at these prices.
TGR: Will the power of gold help the majors or the juniors more?
Marin Katusa: I don't think the majority of juniors will take off until the majors take off, so watch the majors first. They will be the first ones to be repriced when gold really starts to take off. If a junior finds a world-class asset, it will rise based on its own success rather than on the strength of the market. We've seen many examples of that. But the producers will get the party started.
TGR: What about the juniors? What are the juniors that you're watching?
Marin Katusa: The first thing I look for is an excellent management team that is invested heavily in the company. Then I want to see if it owns a world-class asset. If this isn't an asset that a major would want to buy in a bad market, I avoid it. The world does not need another 400,000-ounce gold deposit. A project has to be a game changer for a major.
TGR: You also have an interesting chart comparing zinc inventories to price. How are you positioning yourself in that space?
Marin Katusa: I'm just starting to focus on zinc. I'm not an expert by any means. Literally, outside of Ivanhoe, I have zero zinc exposure in our funds. So I haven't positioned myself in zinc. I just thought this was a very interesting data point to publish.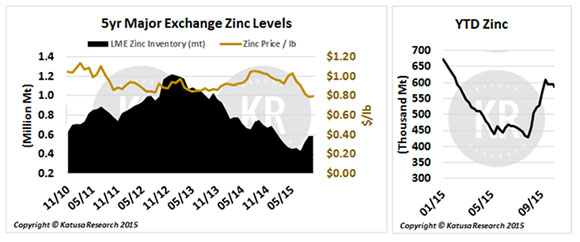 Interestingly enough, many people have contacted me regarding the zinc chart, which tells me there are a lot of eyeballs on the sector.
TGR: You are one of the names along with Cambridge House putting on The Silver Summit & Resource Expo in San Francisco at the end of November. What do you hope people will come away with from this conference?
Marin Katusa: The same thing that I'm hoping to come away with: deal flow to put my capital into the market and make money. There is no better place to meet management teams than a conference like this. You get to meet the Ross Beatys of the world, the man who built silver-producing mines. You get to ask questions of the people who really understand the market. This will be one of the best conferences of its kind in the world with some of the most knowledgeable individuals in the resource sector present for you. All you have to do is make the effort of showing up. The beauty is that in a bear market, an average retail investor can spend time with key mining executives. I hope people at the show will walk the booths and ask questions.
One question I like to ask is, what other company would you invest in with the same type of market cap, sector and risk level as your own if you couldn't invest in your own company? That's a simple question that can really lead you to other opportunities. Plus, I will be there and you can ask me any question you want.
We have a fantastic line-up of fund managers and well-known market commentators, and you get to rub shoulders with people like Frank Curzio, Ross Beaty, Brent Cook and Grant Williams. These are fascinating, interesting people, and you get a chance to talk to them, learn from them and, hopefully, make money from the conference. That essentially is the point, to make money.
TGR: Thank you, Marin.