Five Bullish Commodity Charts from China
Wednesday, 8/28/2013 20:11
Many analysts say the Chinese economy is bust, and the commodity boom with it...
OVER the PAST
few months,
writes Frank Holmes of US Global Investors in his Frank Talk blog
, investors have seen better economic data coming out of Europe.
Consumer confidence in the continent has been rising, manufacturing data is improving and the fiscal situation is on the mend. Now, China appears to be strengthening as well, which could signal better times ahead.
Below are five charts that I believe look bullish for China and commodities. While not meant to be comprehensive, they do point to areas where investors might want to pay close attention.
1. Economic Surprise Indices Improved in the US, Euro and China
An increasing amount of economic data releases are beating analysts' expectations in the US and Europe. In recent months, the three-month change in the economic surprise index for the US has climbed considerably higher. It's the same story for Europe.
These developments are positive for China as well because, as I have previously indicated, Europe and the US are China's largest export trading partners, and therefore, these areas have a large impact on the Asian country's economic health.
Now, the economic surprise index in China is moving up to the "neutral zone," says BCA Research. As a result, "China-sensitive commodity prices have risen," says BCA, with A-shares, Chinese container freight traffic and spot iron ore prices all looking encouraging.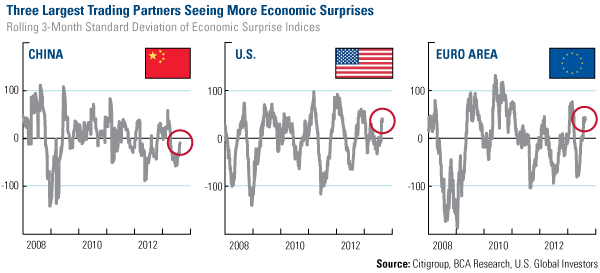 2. Huge Jump in Flash HSBC China PMI
Last Thursday, the Flash HSBC China Purchasing Manager's Index (PMI) climbed to 50.1, which beat Bloomberg's consensus of 48.2. This improvement in manufacturing data was largely driven by domestic demand, as all sub-indices rose except for new export orders.
Our research has shown that this move is positive for commodities. When the current number moves above the three-month moving average, it has historically signaled higher prices for crude oil as well as many energy and materials stocks over the following three months.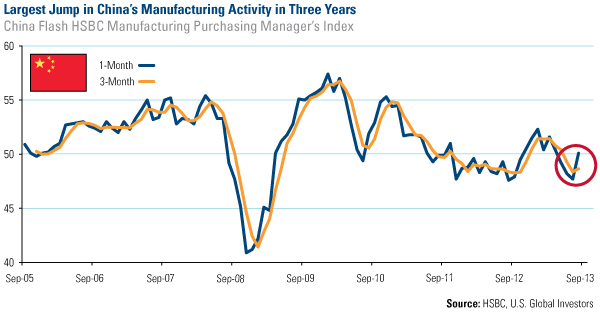 3. Rising Copper Imports into China
China is no longer reducing its inventory of many Chinese commodities, as imports of copper are on the rise, according to BCA. As you can see in Weldon's chart below, in July, copper imports rose to more than 400,000 metric tons. This was the third month in a row that we saw rising Chinese imports.
As a result of this stronger import data, in addition to declining inventories, the price of copper climbed to the highest level since May.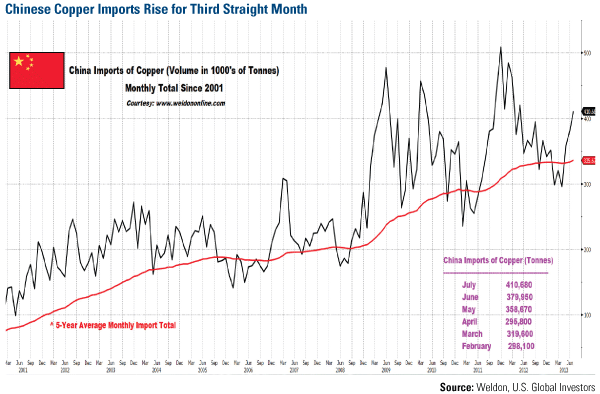 4. China's Crude Oil Imports Climbed to Record High
Crude oil imports also rose, climbing to a record high in July. Wood Mackenzie calculated that if oil imports continue rising, China could overtake the US as the top oil importer by 2017, says Reuters.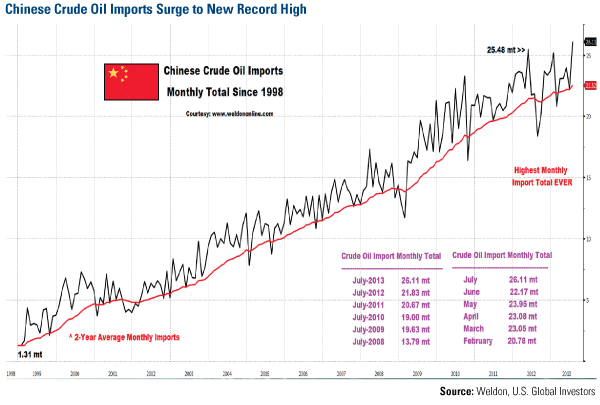 5. China Continues "Growth-Friendly Policies"
Investors who followed the incredible infrastructure boom throughout China in the last decade may be waiting for that to happen again. Growth won't happen at the same pace, as Beijing is very comfortable with its country's slower rate and does not intend to introduce dramatic stimulus as it has in the past.
That doesn't mean commodities won't be in demand. The government will continue its investments in infrastructure, focusing on China's transformation into a consumption-based economy. Improving income growth, urbanization, economic rebalancing and the well-being of its citizens are among the leaders' goals.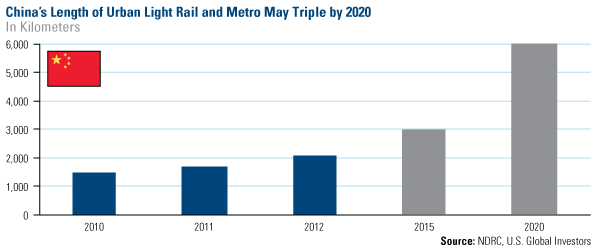 As one example of the "growth-friendly policies," BCA points out the massive increase in the country's urban subway systems, as the "length of light rail and metro will be extended by 40% in the next two years, and tripled by 2020," says BCA.