Gold Mining Stocks Which Go Up?!
Friday, 6/12/2015 10:10
It's getting near 'lights out' for cash-lite, unprofitable gold juniors. But...
THINK
all is doom and gloom in gold stocks?
asks chairman of Canadian brokerage Sprott's US holdings division Rick Rule, writing in Addison Wiggin's Daily Reckoning.
If you're just waiting on the sidelines for a turnaround, you'll likely miss out on some of the most dramatic gains of a recovery.
Here's why.
In the bear market of the late 90's and early 00's, as well as prior bear markets, the sector bottomed out and began to turn in phases. In the midst of a broad bear market, some companies began to move much higher. Whereas the whole sector was disappointing investors, a handful of companies were actually surprising to the upside.
While the broad market continued to sink lower this small group of companies were headed higher. By the time most investors realized that a rebound was occurring, they had already missed out on some of the most impressive moves.
These companies were among the best-run and most promising in the sector too, so late-comers to the sector missed out on the opportunity to buy the most merit-worthy stocks at high discounts.
In today's gold market, I believe we have already begun to see this process, called 'bifurcation.' Some of the most promising companies, with the most talented teams and well-conceived projects, have already begun to catch higher bids.
Hence in the last 18 months, we have witnessed surprising gains in some gold companies. Though I don't want to name names here, the below chart shows the price action for a handful of gold miners. These are companies with markets caps worth hundreds of millions, not just penny stocks with extremely high volatility: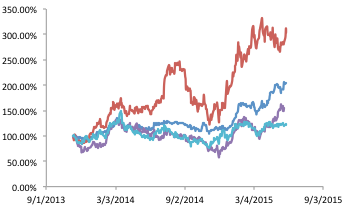 These are just some examples of stocks that appear to have found a bottom and have seen impressive gains amid an overall weak market.
What's the common thread among the companies in this chart?
They are all miners that are producing gold – or are very close to production. Whereas the overall market has disappointed, these companies are demonstrating an ability to generate real returns, even at today's gold prices.
So why wouldn't investors like companies that are actually generating cash?
Well, up until the last year or so, the sector was selling off pretty much across the board. So the move up on good news that we have seen in a handful of gold miners indicates a change in investor mentality.
Investors are still selling off the worst performers. The chart below shows a different group of producing gold miners – these ones are disappointing shareholders through an inability to generate proper revenues from production: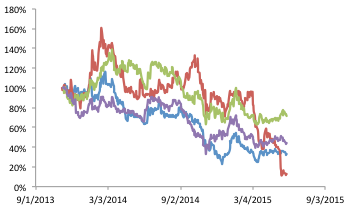 By the time the overall field has been cleaned up and the market is ready for a broad recovery, I expect that the best companies will have already seen substantial gains.
Most investors will miss this 'stealth rally' in the most well-liked projects.
If the process of bifurcation continues in the next year, we should see the most promising stocks in the sector begin to move higher, whereas the weakest sell off even more.
In bifurcation, the fate of an individual company will depend on its specific merits, so you want to own companies that are worth their price tag.
In exploration, this process of 'bifurcation' will directly impact the viability of the companies you own. In order to keep the lights on, exploration companies – or advanced-stage projects that are developing a mine – typically require cash. In bifurcation, you want to be sure that your company has cash on its balance sheet, or has the ability to raise more to fund its projects.
Here's a quick look at the total amount of cash on the balance sheets of companies that are listed on the TSX Venture, where most Canadian miners and explorers trade:

As you can see, companies are getting closer to a "make it or break it" moment. Either investors will give them more money, or they won't. And that could mean "lights out".