Gold & Miners Test 400-DMA
Wednesday, 10/21/2015 10:05
The 400-day moving average has marked key points in prices...
The PRECIOUS metals sector, after failing to break down, has enjoyed a strong rally in recent weeks, writes Jordan Roy-Byrne at The Daily Gold.
Gold, silver and junior gold miners (GDXJ) have reached their 200-day moving averages with senior miners (GDX) close behind. While this is a positive development it does not yet signal that the sector is embarking on a new bull market trend. There are a few things to keep an eye on over the days and weeks to come that can help us determine if a new bull market is taking shape.
While the 200-day moving average (dma) is important, it is not as significant as the 400-dma moving average, which does a better job of defining bull and bear markets. Take a look at the chart below and note how the 400-dma has capped the best bear rallies of the past three years.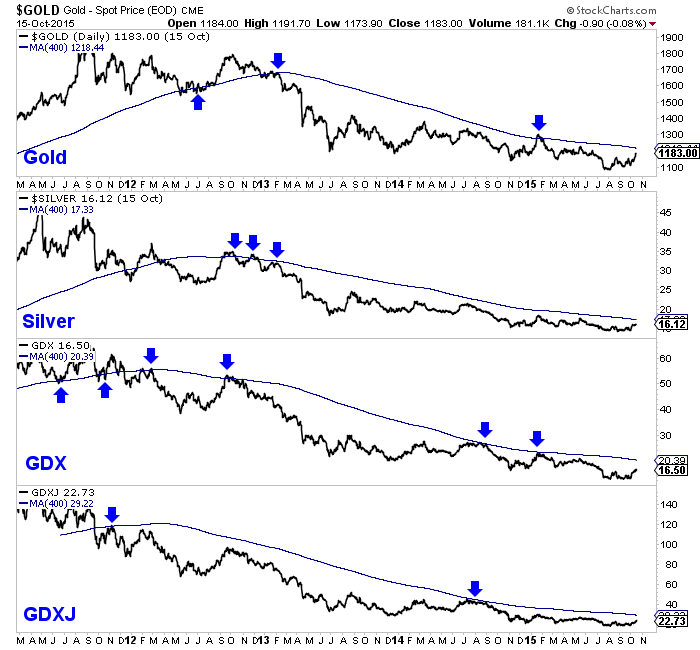 As bulls, we need to see precious metals rally past the 200-dma and reach the 400-dma. Breaking above the 400-dma would confirm a new bull market has begun but merely reaching the 400-dma would be a strong first step.

Gold has also gained strength against the stock market, but has yet to fully break resistance and make a new 52-week high. The Gold/NYSE ratio charted below is consolidating at key trendline resistance and the 400-day moving average.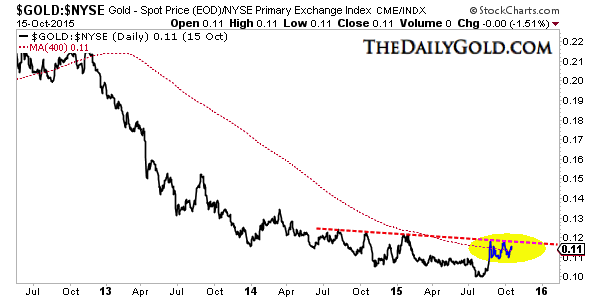 If the stock market begins another leg lower in the weeks or months ahead will Gold go with it or will it buck the trend? The answer to that question is critical to Gold's medium term prospects.
The gold stocks bear analog chart makes a strong case that the mining sector may have reached its low. The current bear market is nearly as long as the 1996 to 2000 bear and in terms of just about every index (BGMI, XAU, GDM) is worse in price. One should also keep in mind that the miners bottomed five months before gold at the end of that bear.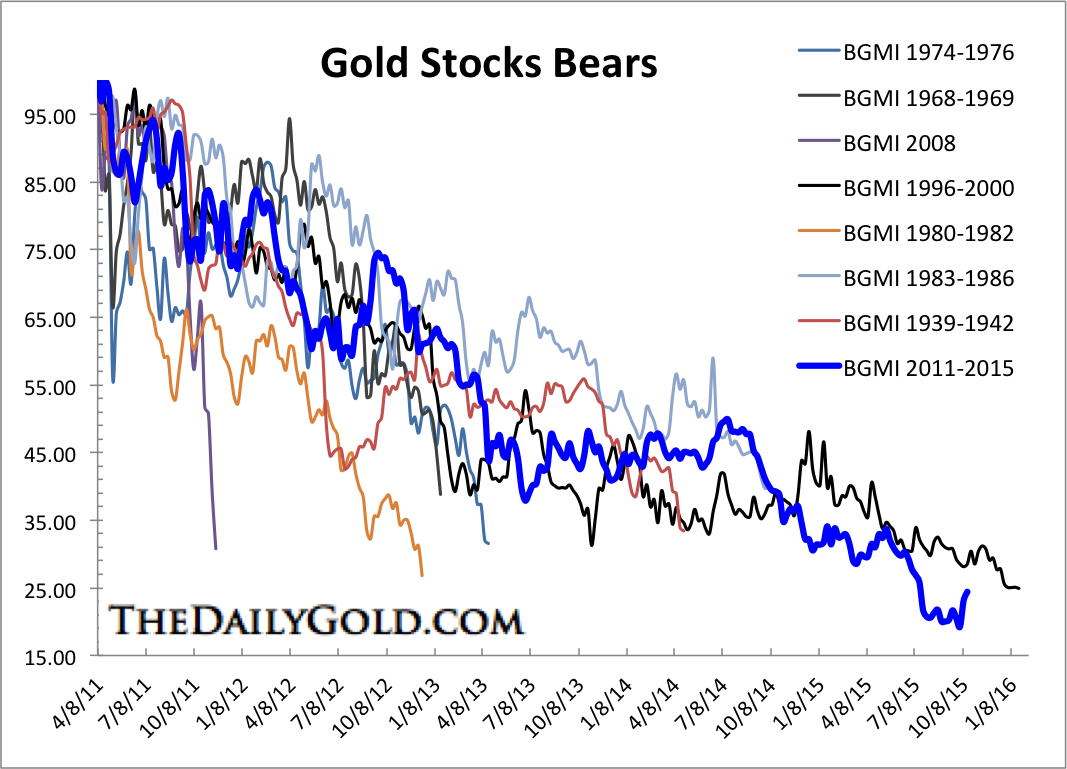 The precious metals complex has enjoyed a strong rebound to 200-day moving averages but could be due for a pause or correction. We will be watching closely to see if the sector can digest recent gains and consolidate around resistance. As we navigate the end of this bear market, we expect our favorite junior miners to outperform into 2016.