Gold Investors Buying Dips, Not Bull
Tuesday, 6/03/2014 09:02
Gold Investor Index falls, one-fifth of May's buyers jump on 4-month lows...
If GOLD INVESTOR sentiment reflects financial stress and anxiety, then it has clearly dropped since the price peaks of mid-2011, writes Adrian Ash at BullionVault.
The stock market is setting new record highs, after all.
Right alongside, gold sentiment amongst private investors ebbed further in May, as our Gold Investor Index shows today. Wall Street's S&P500 broke 1,900...a rise of 23% from 12 months ago and more than doubling from May 2009.
The gold price meantime fell to 4-month lows. And sentiment?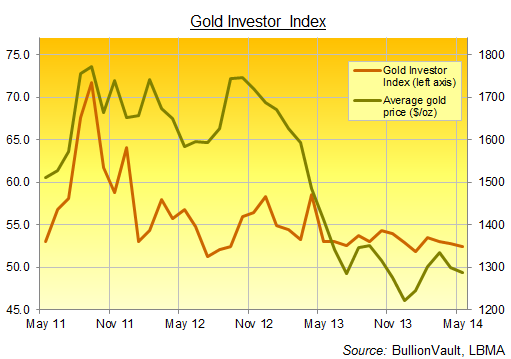 The Gold Investor Index is calculated using proprietary data from Bullionvault, the 24-hour precious metals exchange which leads the market for physical bullion online.
More than 52,000 people have now used BullionVault to buy, store and trade physical gold and silver – the internet's largest pool of private precious metals investors. Between them, they own $1.3 billion worth of gold bullion (£785m, €965m) – more than is held by most of the world's central banks, and unchanged in May from April.
Instead of surveying intentions, or simply reporting the change in total client property, the index shows the balance of individual actions across the month. It take the number of net sellers – people who reduced their holding – from the number of net buyers (including new users, who started at zero), and gives that figure as a proportion of all gold owners at the start of the month. That is rebased so that 50.0 would signal a perfect balance.
The chart above shows how the Gold Investor Index has varied over the last three years. (Data attached as XLS below. You can read more about its methodology and aims in
Fear, Delusion & the Gold Investor Index
here.) The index recorded a series low of 48.8 in February 2010 as the financial crisis took a pause. It then peaked at 71.7 in September 2011 as gold prices hit record highs. And in May 2014, with prices in a tight, boring range until the very last week, the index gave a low but positive reading of 52.4.
That 3.9% drop in Dollar gold prices counted, however. One-fifth of May's net gold buyers on Bullionvault acted in the last 4 days of the month, pulling the index higher...from what would have been a near 2-year low...as investors took advantage of lower prices.
Short term this looks still distinctly unbullish. Investors are buying the dips, not driving any new phase in the metal's previously long upwards trend. More starkly still, silver buyers on Bullionvault last month added more metal than any month since December 2012. Again, this bargain-hunting came on a sharp drop in prices, swelling total silver holdings by 2.9% in May to some $282m by value (£169m, €207m).
Longer-term, such Dollar-cost averaging looks smart. Private investors as a group continue acquiring bullion as part of their broader savings, well-remembering the lessons of the financial crisis but not chasing prices higher as they buy financial insurance. And since the price crash of last spring, gold sentiment has mirrored the broader moves in bullion prices, flattening but holding positive as new investors continue to join the market.