Cyprus Fiasco Breaks Gold Complacency
Tuesday, 4/02/2013 07:49
Gold Investor Index falls again but banking bail-out jolts household sentiment...
YOU MIGHT think private households piled into gold during March due to the fiasco of Cyprus's banking bail-out, writes Adrian Ash at BullionVault.
And yes, last month saw private investors remain positive on gold bullion. But overall in March, sentiment towards the metal slipped for the third month running according to Bullion Vault's latest Gold Investor Index.
Reading 53.3 in March, the index – which measures the balance of gold buyers and sellers on BullionVault, the world-leading precious metals exchange online – fell from 54.4 in February.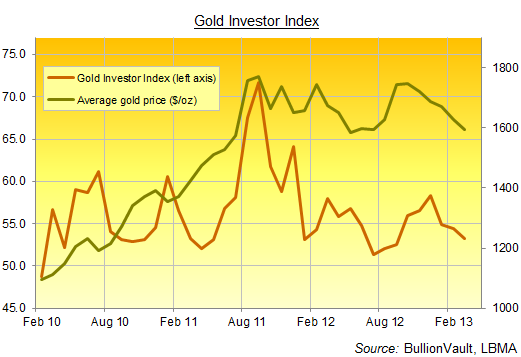 A reading of 50.0 would signal a perfect balance of buyers and sellers. The Gold Investor Index peaked at 71.7 in September 2011, and hit a 12-month high of 58.3 last December.
Fact is, events in Cyprus electrified interest in gold mid-month. That runs contrary to the recent trend, when gold investing had lost some of its urgency.
The weekend of the first Cyprus bail-out deal – since rejected by lawmakers – was the busiest weekend for gold dealing on BullionVault's 24/7 exchange since mid-October;
The next day (Mon 18 March) was then its strongest singleday for new users (ie, first time depositors) since Jan. 2012;
That week (16-24th March), gold trading volume on BullionVault rose 78% by weight compared to the previous 2013 weekly average;
The number of visitors from Spain and Italy combined who both opened and funded their account that week, ready to buy gold for the first time, rose by 167% from the previous 2013 weekly average.
So while the bulk of savers continue to trust the banks and government, a growing number think such complacency unwise. Cyprus provides a stark reminder of the credit risks from which physical bullion is free.
The fiasco in Cyprus brought geopolitics and the need for risk diversification to the fore. Both are reasons why BullionVault last month added Singapore gold dealing and storage to its existing markets in New York, London and Zurich.
Switzerland remains the most popular location, with BullionVault users choosing to hold 75% of their physical gold property there according to the company's online Daily Audit.