Gold Buying Hits 6-Month High on "2013 Insurance" Demand
Tuesday, 12/04/2012 09:16
Drop in price sees BullionVault users adding half-a-tonne of gold...


LATE NOVEMBER'S drop in the gold price spooked many analysts and traders, writes Adrian Ash, head of research at BullionVault.

But it saw users of our physical precious-metals exchange – the largest such provider to private investors online – seize the opportunity to add to their holdings, building what one of them calls "monetary collapse insurance" ahead of 2013.

The Gold Investor Index is based on actual gold buying and selling data from the 43,000 people worldwide who have now used BullionVault. By taking the balance of net buyers over net sellers, it shows whether more people are buying or selling gold, or choosing to sit tight.

And in November 2012, the Gold Investor Index rose for the fourth month running, reaching a six-month high of 56.5 from October's level of 56.0.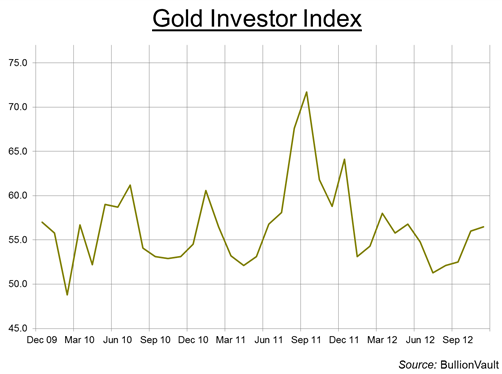 A reading of 50 would indicate a perfect balance of buyers and sellers. And November's reading would have been lower than October's (although still above 50) had it not been for gold's drop last week, when our customers took advantage of lower prices to Buy Gold on the dip.

Last Wednesday's sudden 2% fall, for instance, saw more than three times as many BullionVault users buying gold as compared with the previous working-week's daily average.

Still, and as our index shows, private investors are less interested in gold today than during the back-half of 2011 or even the start of this year. And that's perhaps as it should be.

2012 has certainly been lacklustre – comparatively – after the fireworks and tear gas of 2011. Indeed, it has been the first year in six without a focused moment of crisis for Western investors and savers. And that has clearly kept a lid on new gold investment demand.
But the background noise of unpayable debts and zero interest rates has only grown louder. People buying physical gold with a chunk of their savings clearly think the financial risks of 2013 need insuring against. An ever-growing number are choosing to do so securely, at the very lowest costs, using BullionVault.

Between them they added half-a-tonne to their holdings in November, buying gold on the pullbacks, and building what they call "insurance" while both gold and the financial crisis are far from the front pages.