New! Gold Investor Index
Wednesday, 10/03/2012 12:41
BullionVault's new Gold Investor Index "an innovation in gold-market data"...
DOLLAR Gold Prices put on 7.7% in September, and hit new all-time highs against the Euro and Swiss Franc, writes Adrian Ash, head of research at BullionVault.
So who's doing the buying, and driving prices higher? New data we released today here at BullionVault show that private households are continuing to join the bull market.
But the response by retail investors to both QE3 and the latest phase of the Eurozone crisis is more measured – some analysts might say complacent, even – than the recent price action alone might suggest.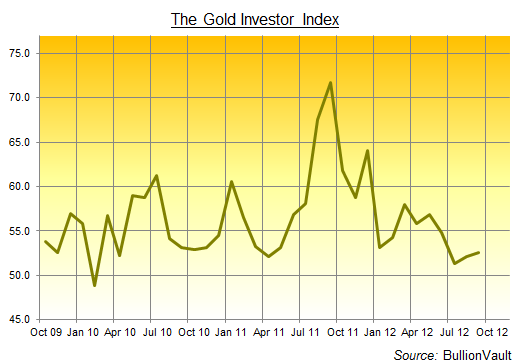 BullionVault's new Gold Investor Index provides a unique window onto private-investor sentiment towards physical gold. The prompt came from our contacts and colleagues in the wholesale professional market – dealers and traders who are always happy to share their views and opinion, but who have been asking us what we're seeing on our own peer-to-peer exchange, used by 42,000 private investors from 159 countries.
So the Gold Investor Index is a monthly data point, based on actual trading on BullionVault, the world's largest provider of physical gold ownership to private investors. Almost 90% of its users live in the UK, US or Eurozone. Our Gold Investor Index shows whether more of those people are buying or selling gold, or choosing to sit tight.
How does it work? The Gold Investor Index, which you are welcome to download and study below, takes the balance of net buyers (who added to their holdings) versus net sellers over the last calendar month on BullionVault. The index then shows that figure as a proportion of all existing gold owners – any of whom could have chosen to buy more, reduce their holding or maintain it – to give a comparable series over time. The index is rebased so that a perfect balance of buyers and sellers would give a reading of 50.0.
Now, we believe this index is significant, and not just in our own market of physical gold for private investors. The Gold Investor Index is the world's first indicator of retail-investor sentiment towards gold based on revealed preference. It gives a clear indication of how private households are reacting to economic and financial news by either buying, selling or continuing to hold gold. And because gold investment is plainly a marker of consumer confidence and expectations, it thus offers a useful guide to broader economic sentiment as well.
Private investors grew bullish on gold in September, for instance, as our chart shows above. Rising from August's reading of 52.1 to 52.5, however, it still lagged levels seen earlier this year, and it was well below the series-record to date – the level of 71.7 hit in September 2011.
So what's going? Well, those private investors who bought gold in the first 5 years of this financial crisis now have it. They can decide today to either take profits, add more, or stay put – all very quick and easy on BullionVault – depending on their personal needs and outlooks. But entering the market for the first time isn't an option, not for those people who have already acted.
Looking ahead, last month's QE3 news in the United States, plus the European Central Bank's steps towards buying debt in the Eurozone, clearly raise the risk of a severe inflation in the future, if not a fresh debt crisis when their support is finally – if ever – removed. For now, however, private households don't feel those risks so urgently. That's what the Gold Investor Index says. The risk of crisis, for households in the developed West, is more perceived than immediate right now, more intellectual than the extreme moments of genuine stress we've seen in this financial crisis so far.
"There has until now been a lack of hard data on self-directed retail investors in gold," said Marcus Grubb of the World Gold Council, which is an investor in Bullion Vault, at today's launch here in London.
"For instance, the data we produce [the excellent Gold Demand Trends] is more at the macro level, including institutional and private wealth management. This new Gold Investor Index is a real innovation – a unique and useful addition to the data already available. It's a coincident indicator of what private households are choosing to do with regards to physical gold."
What might our new index do from here as 2012 draws to a close? Well, here in the UK – which accounts for some 50% of BullionVault's user-base – broader economic data remain weak, but have been revised upwards for Q2. Sterling also remains strong, relatively speaking, despite the Bank of England's best efforts. In our experience, a fall in Sterling tends to increase urgency for UK savers wanting to buy gold. Given that many analysts now see the Pound as perhaps 15% over-valued vs. the Dollar, they might to consider the outlook.
In the Eurozone, central banks and policymakers can perhaps take succor from today's index reading. As with household bank deposits in weaker economies, it suggests that people are less anxious about a break-up or a worsening of the crisis in the short term. And in the US, our colleagues and contacts in the retail Gold Bullion industry report lackluster demand since the spring, especially compared with the records of summer 2011. The debt impasse has faded, as has the US debt downgrade it forced. Many of our friends in the US coin and small-bar business don't expect new direction until after the election. But the fiscal cliff looms right behind that, of course.
Similarly, very wealthy families, and the family offices who run their money, had in fact been reducing their allocations to gold, Marcus Grubb said at this morning's launch – kindly hosted in St.James's by fellow BullionVault investors, Augmentum Capital. But the launch of QE3 in the US in September had confirmed their growing unease and negative sentiment towards the broader economy. Many were now deciding to raise their allocations to gold once again.
That may well be a decision which Western households more broadly also reach as 2013 draws near. Meantime, the private investor response to QE3 and the latest phase of the Eurozone crisis is far more measured. It also undoes any talk of a "gold bubble" amongst Western households.