Gold Price Slumps, Gold Investor Index Steady
Tuesday, 7/02/2013 09:08
Sellers outweigh buyers, but don't outnumber them on BullionVault's Gold Investor Index...
APRIL's crash was bad enough, but June 2013 proved worse still for gold, writes Adrian Ash at Bullion Vault.
Yet Bullion Vault's Gold Investor Index held steady at 53.0 in June, unchanged from May despite a 14.5% drop in the Dollar gold price.
The index measures the number of buyers vs. sellers on the world's leading internet gold exchange. A reading of 50 means net sellers and net buyers over the month were in balance.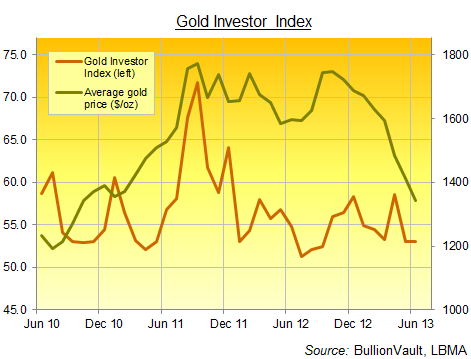 This April's sharp and sudden crash in prices sent the Gold Investor Index surging to a 16-month high of 58.6 as the number of sellers was overwhelmed by new buyers.
The gold price fell again in May, and then fell harder in June, losing 15.0% for Euro investors. Anyone buying with British Pounds suffered gold's worst 1-month drop (down 14.9%) since Feb. 1983. And whatever its causes, this extended drop is starting to polarize attitudes.
June's torrid price action saw some long-term owners taking profit. Some more recent investors opted to take their losses as well. But again the number of net gold buyers was greater. So overall, Bullion Vault's Gold Investor Index – with that reading of 53.0 – continues to show a positive balance of investors choosing to add gold bullion to their portfolios.
The Gold Investor Index tracks Western household sentiment towards physical gold bullion. It is built from the actual trading activity of thousands of private individuals – self-directed retail investors – using the 24-hour online exchange at
BullionVault.com
, the world's largest provider of direct gold bullion ownership.
Very nearly 90% of BullionVault users live in the US, UK or Eurozone. Month by month, the index measures the balance of net buyers over net sellers, and shows it as a proportion of all existing gold owners using BullionVault. Rebased to 50, the index indicates more buyers than sellers across the month if it reads above that level, suggesting private investors on aggregate are more bullish towards gold. A reading below 50 indicates more sellers than buyers.
Calculated back to September 2009, the Gold Investor Index peaked at 71.7 in September 2011, back when the Eurozone debt mess, US debt downgrade and English riots created the perfect storm for gold's proven financial insurance. With the sense of crisis receding still further, however, June 2013 in contrast proved the third month of lower prices. It led some long-term holders to take profits, and it led some more recent buyers to realize losses too.
But other people are taking this opportunity to buy gold near three-year discounts – and there were more of them in June as well. So the index read 53.0, showing the same positive balance of net buyers as it did in May.
Trading live online and quoting their own price as they choose, BullionVault users can sell as quickly and easily as they buy. So where coin dealers report strong sales, but are more coy about the volume of re-selling they saw, the Gold Investor Index offers a unique insight into what private investors are doing with gold.
So too does Bullion Vault's freely published
Daily Audit
. It shows the sum total of client property held at low cost in secure storage in the user's choice of London, New York, Singapore and Zurich. And last month, as the Audit showed, customers as a whole liquidated 1.8% of their gold holdings by weight.
That capped the first quarterly liquidation since the physical bullion exchange launched in April 2005. June's disinvestment totalled 1.2 tonnes, taking the stock of client gold property to an 8-month low of 31.8 tonnes, some 3.7% below end-March's peak.
April-June's sharp drop in
gold prices
also spurred a sharp rise in trading. Gold volumes rose 31% in Q2 from Q1, with a total of 7.3 tonnes changing hands on Bullion Vault's internet exchange.
Sellers outweighed buyers in short. But they failed to outnumber them. Gold's appeal continues to widen. Because a growing number of people think the crisis is now only masked by rising stock markets and talk of less extraordinary central-bank policy. The threats which rare, indestructible gold can defend against have not gone away.