Gold Buyers Outnumber & Outweigh Sellers in Feb.
Tuesday, 3/04/2014 09:05
Gold Investor Index jumps at fastest pace since April 2013's price-crash...
GOLD INVESTOR sentiment towards bullion jumped last month at its fastest pace since April 2013, according to our latest Gold Investor Index, writes Adrian Ash at physical metals market BullionVault.
The number of people adding to their holdings in February using our online exchange rose to twice that of net sellers. That drove our proprietary Gold Investor Index – which measures the balance of buyers over sellers as a proportion of all gold owners at the start of the month – up to 53.5, its highest reading since November.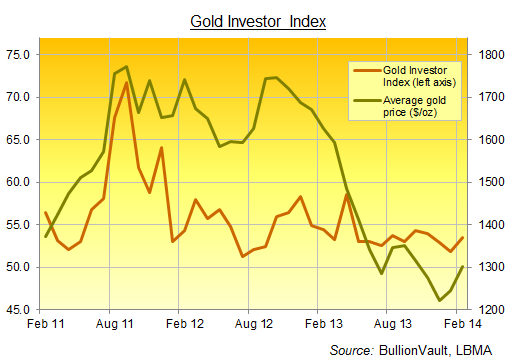 Peaking at 71.7 in September 2011, the Gold Investor Index fell this January to an 18-month low of 51.9. A reading of 50.0 would signal a perfect balance of net buyers and net sellers. So February's 3.1% rise in the index began from a low base. It was beaten by April 2013's rise of 10.0%, when a crash in the gold price unleashed the strongest interest in physical bullion from self-directed investors since the global debt crisis of late 2011.
Gold investment sentiment amongst private Western households (nearly 9-in-10 of the 51,500 people who've now used BullionVault) remains wary of the 2014 rebound so far. Partly because many took the opportunity to build their positions at discount prices in 2013. Partly because last year's 30% drop proved a hard-won lesson.
But while private-investor sentiment is muted, the volume of new gold demand rose sharply last month. As data from BullionVault posted for public scrutiny online each day show, the sum total of user gold holdings rose to 32.5 tonnes in February, up by one-third of a tonne (332kg) to reverse the previous two months' net liquidation, and the largest 1-month growth since August (421kg).
That's because larger allocations are returning to gold after the 2013 crash. Today's geopolitical threats only add to the case for holding financial insurance. This weekend saw the busiest Sunday on BullionVault's live markets since the Syrian crisis last summer.