Gold Buyers Outnumber Sellers 2:1
Tuesday, 5/06/2014 09:08
But Gold Investor Index shows sentiment "softening" again as price volatility falls...
GOLD SENTIMENT amongst Western households softened for a second month running as prices flattened last month, the latest Gold Investor Index from BullionVault shows today, writes head of research Adrian Ash in London.
Down slightly from March's reading of 53.0, our proprietary index slipped in April to 52.8 –its lowest reading since January's 18-month low of 51.9.
Gold price volatility meantime fell to its lowest level since March 2013, just before the bullion market hit its sharpest drop in 31 years.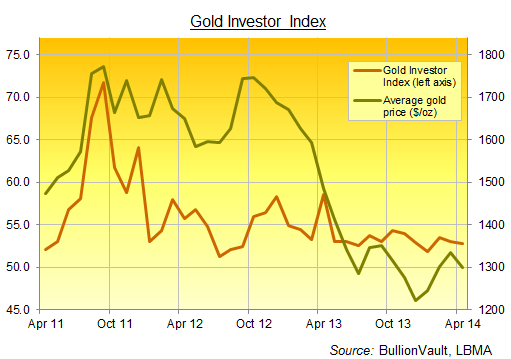 The Gold Investor Index measures the balance of people using BullionVault to grow their holdings over those who sold, as a proportion of all existing owners. So it measures actual behavior, rather than just intentions, amongst the largest single pool of private gold investors.
BullionVault is the physical gold and silver market for private investors online, now used by some 52,000 people and currently holding $1.4 billion worth of gold bullion (£805m, €976m, ¥138bn) – more than is held by most of the world's central banks – in the user's choice of London, New York, Singapore, Toronto or Zurich (as well as plus a further $278m in physical silver).
The chart above shows how the Gold Investor Index has varied over the last three years. A reading above 50 indicates more buyers than sellers across the month. This monthly index peaked at 71.7 in September 2011, and recorded a series low of 48.8 in February 2010. (To learn more, see the May 2013 article in the London Bullion Market Association's Alchemist magazine.)
Now, within April 2014's data, BullionVault's world-leading precious metals exchange saw two gold buyers for every net seller across the month. But aggregate client gold holdings – the sum total of customer property held in the vaults (and proved by our unique
Daily Audit
) were barely changed, slipping 25 kilos to 32.7 tonnes.
So the pattern we've seen since spring 2013's crash continues, with larger investors who took refuge in gold during the financial crisis reducing their allocations as investors now building their savings make sure they include physical bullion.
From speaking to these newer entrants, we know they well remember the lessons of the financial crisis. Gold remains the best-performing asset class of the last 10 years. So newer savers continue building their holdings in what's proving an extended lull in gold price volatility.
Measured on a daily basis, volatility in gold prices last month averaged the lowest level since March 2013, just before the market hit its sharpest drop in 31 years last April. Since that crash, in fact, gold prices have closed every month between $1200 and $1400 per ounce, trading mostly in a still tighter range just $50 either side of $1300.
Viewing gold bullion as financial insurance, in short, some self-directed investors are cutting their positions with prices – like the broader economy – more stable. Twice as many last month, however, opted to extend their cover, quietly building on smaller bases and in lower sizes.