Gold Price Up, Investor Interest Down
Tuesday, 2/04/2014 09:18
Gold Investor Index slips to 18-month low as price rises...
GOLD PRICES rose in January for the first month in five in each of Dollars, Euros and Sterling, writes Adrian Ash at BullionVault.
Private investor sentiment, in contrast, slipped to its lowest level since July 2012, as measured by our proprietary
Gold Investor Index
.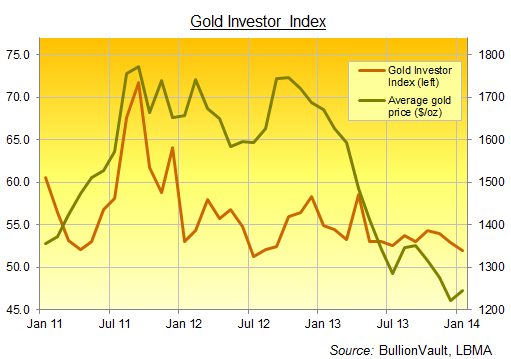 Calculated since October 2009, the Gold Investor Index measures the balance of people who added gold vs. those who cut their holdings using BullionVault, the world's No.1 precious metals market for private investors online.
Now used by more than 51,000 people worldwide, Bullionvault has found nearly 90% of its customers in Western Europe or North America. Our index offers a unique window onto self-directed gold investor sentiment in the developed world.
Now, a reading above 50 indicates more buyers than sellers. Not more buying by weight. Rather the number of buyers, as revealed by actual behavior rather than merely a "survey" of intentions.
Peaking at 71.7 when the gold price peaked in September 2011, the Gold Investor Index slipped last month from 52.9 to 51.9, the lowest January on our data series.
Gold price gains, meantime, showed up for investors in all currencies, even the resurgent Japanese Yen. The average monthly price rose 1.8% in US Dollar, Euro and British Pound terms on average. So while sentiment remained positive, the balance of investors buying gold eased back after they'd bought the drops delivered so aggressively in 2013.
But also note that, by weight, the sum total of gold owned by private investors on BullionVault slipped for the second month running in January. Dropping 0.4% to 32.175 tonnes, it edged down to the lowest level since July 2013.
For all those headlines and tipsheets proclaiming a turnaround in gold prices, private gold investors making their own decisions remain wary of chasing this rally just yet.