Gold Investment Sell-Off Reversed at 8% Discount
Tuesday, 4/01/2014 09:17
Gold investment sentiment ends Q1 positive on BullionVault's index of user buying and selling...
GOLD INVESTMENT holdings sold during the price crash of spring 2013 have been three-quarters rebuilt and at an 8% discount, writes Adrian Ash at BullionVault.
As well as outweighing sellers, self-directed private gold investment buyers also continue to outnumber them. Sentiment towards financial insurance remains positive, in short, and people continue to buy at lower prices.
That's the conclusion from our latest Gold Investor Index. It tracks the number of BullionVault users growing their holdings versus those who reduce them, and gives a reading of 53.0 for March.
A reading of 50.0 would signal a perfect balance of net buyers and net sellers across the month. Falling slightly from February's level of 53.5, the index ended the first quarter as good as unchanged from where it started, back at 52.9 for the end of 2013.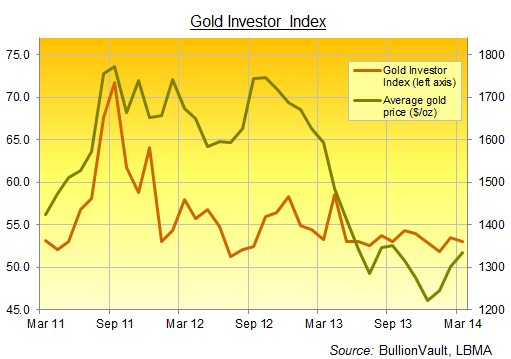 What does this index of gold investment sentiment show?
BullionVault is the world's No.1 gold-ownership service online. Its users are predominantly self-directed private investors (people making their own investment decisions and putting them into action themselves). In the main they live in Western Europe or North America (some 90% of customers).
These investors ended March owning 32.7 tonnes of gold (1.05 million Troy ounces), up from the end of February by nearly 200 kilograms (6,400 ozs), and all held in the form of London Good Delivery bars.
Worth some $1.36 billion at March's last London Fix of $1291.75 per ounce, that's more investment-grade gold than most of the world's national central banks hold in reserve. It's stored in independent, non-bank vaults in the user's choice of London, New York, Singapore, Toronto or Zurich.
The Gold Investor Index is calculated using proprietary data from BullionVault's live, 24-hour precious metals exchange for physical bullion online. Instead of surveying intentions, the index takes the balance of net buyers over net sellers across the month, and shows it as a proportion of all existing gold owners, rebased to 50.
To learn more, see the May 2013 article
about the Gold Investor Index
in the London Bullion Market Association's
Alchemist
magazine. The chart above shows how it has varied over the last three years, peaking at 71.7 in September 2011.
And rebounding from the 18-month low hit in January at 51.9, the Gold Investor Index was little changed at 53.0 last month from December's 52.9.
Now, the last four times sentiment on the Gold Investor Index gave a reading at this 53 level, Bullionvault users were either net sellers of gold or flat over the month.
But with March adding to February's strong addition, customers have now bought back three-quarters of the 1.1 tonnes liquidated last spring – when gold prices crashed to deliver their sharpest drop in three decades. In aggregate, they've rebuilt that position at a discount averaging more than 8% too.
Since the Q2 crash of 2013, when the metal averaged $1414.80 per ounce, Dollar gold prices have averaged $1297.87 (London PM Fix).
But the average monthly
gold price
across March 2014 was $1336.08, the highest since September.
So, while gold prices averaged a 6-month high in March, physical bullion continues to look good value to private individuals and households making their own investment decisions.
Financial insurance is still on sale. And like any effective cover, the best time to buy is before trouble strikes.