Gold Investing FOMO Replaced by FOLO as Price Sinks
Tuesday, 12/01/2020 10:58
Record 66% jump in sellers on a falling price...
GOLD INVESTING
grew on November's steep price drop, extending its strongest run of the 21st Century but also seeing a rush to take profit as the good news on Covid vaccines pushed bullion 15% below August's record high,
writes Adrian Ash at BullionVault.
No, we don't think Bitcoin explains the selling. Search volumes on Google have remained stronger for "buy gold" than they became for "buy bitcoin" in November. And with Western stock markets recording their
best-ever month on the MSCI World Index
, search volumes for "buy stocks" beat them both.
So whatever headlines Bitcoin might be grabbing as it top ticks a new high after plunging 85% inside 12 months from its last peak, more people are looking to invest in super-soar-away equities than boring old gold, which in turn
beats magic internet beans
. And a growing number of would-be gold investors are finding their way to BullionVault.
New BullionVault account openings last month rose 7.0% from October's count, led by greater than 15% growth in both the US and UK but offset by an 8.5% slowdown in first-time Eurozone users.
With one month to go, the global number of new users in 2020 has already matched BullionVault's prior record year of 2011 and it has beaten the last 5-year average by 176.7%.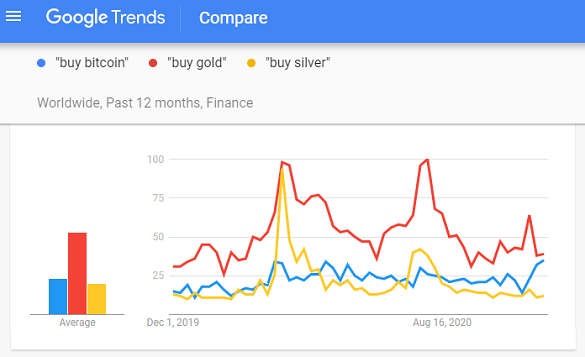 Although November's
drop in gold prices
was the steepest monthly decline in 4 years since Donald Trump won the 2016 election, it still leaves gold 20% higher from a year ago, outperforming global stock markets.
This autumn's drop in gold prices also enables investors to diversify their portfolio at a 15% discount to August's peak, spreading their risk ahead of New Year 2021.
Still, a fall in gold prices typically spurs bargain-buying among private investors, and November was no exception.
With gold prices falling 6% in US Dollars and 9% in both Euro and Sterling terms across November – the steepest price drop in 4 years, taking it to the cheapest since early summer and 15% below August's record above $2000 per ounce – BullionVault saw the number of people buying gold across November jump by one-third from October's figure.
Up by 33.2%, the number of buyers reached the most since August, some 21.5% greater than the last 12-month average.
But the number of people choosing to sell gold using BullionVault's online or smartphone apps jumped 66.5% over the month, also reaching the most since August with the sharpest percentage rise in a month when gold prices fell in all of BullionVault's 15 years of operation.
Together that took the Gold Investor Index – a unique measure of private investing behaviour in physical bullion – back up to 59.4, reversing October's dip to 57.9, the lowest reading since February, eve of the Covid Crisis hitting Western Europe and North America.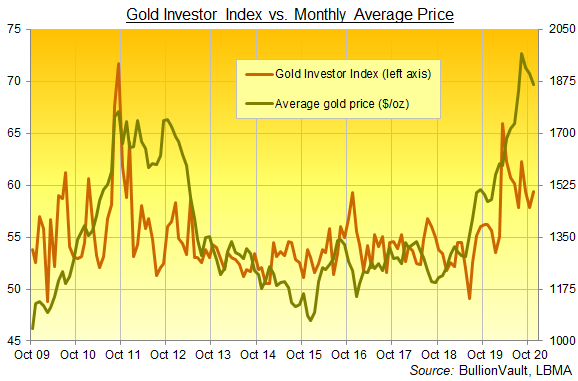 The Gold Investor Index tracks the number of people buying gold against those choosing to sell it across the month. Rebased as a proportion of all gold owners at the start of the month, it would read 50.0 if the number of buyers and sellers were equal.
As you can see, the index set a series peak at 71.7 in the long hot summer that ended the global financial crisis in 2011. It next peaked at 59.3
when Donald Trump won the White House
in 2016, but then retreated – and slipped below 50 as investors sold out on mid-2018's rise – before surging to 65.9
amid March's Covid Chaos
.
Since then the Gold Investor Index has continued to hold above 55.0, its lifetime average, to mark the longest ever stretch of such strength.
Last month's very welcome vaccine news did however spur the sharpest jump in the number of BullionVault users selling the metal that we've ever seen on a falling price.
So where fear of missing out drove money into gold at this summer's peak, fear of losing out has now spooked some investors, especially those who bought during 2020's Covid Crisis, because the price has retreated sharply from August's record highs above $2000 per ounce.
Customers who first opened their BullionVault account in the last 5 years accounted for 58.9% of last month's gold sellers, but represented only 49.9% of all gold-owning customers at the start November. Accounts opened in 2020 were 42.1% more likely to have sold gold in November than customers who first registered in any previous year.
Net of customer selling however, client gold holdings still grew by 0.3 tonnes in November as positive demand continued, expanding by 0.7% overall to reach a new record above 45.6 tonnes, worth more than $2.5 billion (£1.9bn, €2.1bn, ¥269bn) all securely stored and insured inside specialist vaults in each client's choice of London, New York, Singapore, Toronto or most popular Zurich.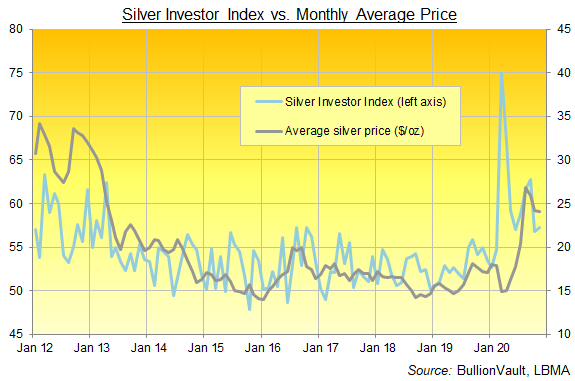 Silver also fell by more than 6% in November against the US Dollar and lost almost 9% in Euro and Sterling terms. But with gold prices falling 1.9% on a month-average basis, the more industrial white metal slipped just 0.9% from October's average price.
As in gold, November's percentage jump in BullionVault accounts choosing to sell silver (+33.2%) was twice as great as the percentage rise in those buying (+17.5%) but sellers continued to be both outnumbered and outweighed.
That strength in silver buying took the Silver Investor Index 0.5% higher to 57.2 from October's reading of 56.8 – like the Gold Investor Index, also an 8-month low.
Net demand for silver by weight totalled 9.9 tonnes, taking the total quantity of silver securely stored and insured for BullionVault users to a new record of 1,120 tonnes, larger by more than one-third (36.3%) from the start of the year and worth $797m (£597m, €665m, ¥83bn).
Platinum holdings meantime held unchanged overall at October's record high of 1.9 tonnes, now worth $61m (£45m, €50m, ¥6.4bn).
Bottom line? FOMO might see Bitcoin catch a bid from private investors worldwide if the headline-writers have anything to do with it. But while new interest in precious metals has of course slowed from 2020's record crisis inflows, and while the financial markets are racing to discount the end of the pandemic, spurring that FOLO among November's gold sellers, it would be a mistake to think that bullion is finished just because the virus might soon come under control.
Gold's current upswing
began 18 months before Covid arrived
, and its prime mover remains the slow but relentless devaluation of cash savings, with central banks committed to holding interest rates below the pace of inflation for years to come.
This dreadful disease has only worsened the outlook for ultra-low interest rates, massive government deficits, and weak global growth. While gold, silver and platinum may struggle to repeat
this year's record investing inflows
, investors using precious metals to diversify their portfolio have good cause to retain if not expand their exposure as 2021 begins.