China Crash? Private Gold Investing Better Prepared Than Funds
Tuesday, 9/01/2015 09:01
Gold investing sentiment amongst private savers fell from 2-year highs in August...
GOLD INVESTING doesn't always pay off when the stock market falls, writes Adrian Ash at BullionVault.
But for all this summer's earlier talk of 'safe haven' gold being dead, the gut-level case for gold still hits hard whenever trouble strikes. The gold price in Dollars has risen pretty much every year the S&P500 index of US stocks has lost 10% or more. And across the last four decades, owning a little gold has consistently smoothed returns for longer-term investors wanting to avoid the worst losses when equities sink.
Little wonder then that Last week's 'Black Monday' saw the strongest single day so far in 2015 for first-time account fundings at BullionVault, the world's largest physical gold and silver exchange online.
Money managers, like hedge fund traders, want to avoid the worst losses, too. That's their big promise to clients after all. So
after selling gold investments down to 5-year lows mid-year
, China's shock to world markets in August caught the so-called 'smart money' off side, and saw both those groups scramble to reverse their earlier gold sales of summer 2015.
Private investors making the same choice to buy gold were better prepared for the drop in shares – and the rise in gold – around China's 'Black Monday'.
Indeed, amongst Western savers managing their own money, gold investing sentiment actually fell from 2-year highs last month, even as prices rose together with both trust-fund ETF positions and the overall bullish betting on futures and options.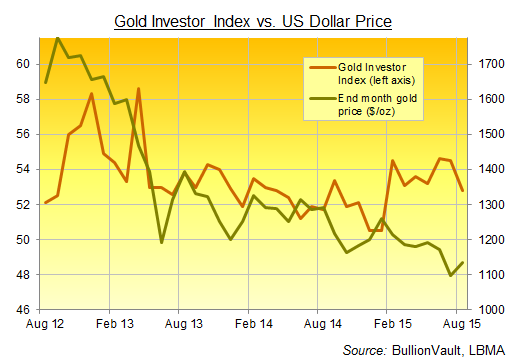 With the Chinese stock market dropping 15% in August as Western equity markets lost over 10%, gold bullion rose 3.3% in Dollar terms, added 2.1% in Euros, and gained almost 5.3% for UK investors by month's end, bouncing hard from new multi-year lows.
Typically a quiet month in gold however, August as a whole saw the sharpest retreat in BullionVault's Gold Investor Index since spring 2013.
The index measures the balance of net buyers against net sellers over the month. A reading of 50.0 would signal a perfect balance of net buyers with net sellers across the month. It dropped to 52.8 in August from 54.5 in July.
How come?
First, sentiment already stood at strong levels. June showed a 26-month high of 54.6, and July very nearly matched it, extending an upturn starting at New Year.
Second, August's dramatic drop still left the Gold Investor Index elevated compared to 2014 levels. It read 51.7 in August 2014. Last month's reading was barely 1% below the peak of 2014, and exactly matching the index's previous 12-month average.
But where private savers running their own money had been steadily investing in gold all year, professional money managers had been selling out.
The week before 'Black Monday' hit stock markets worldwide, said positioning data for US futures and options from regulator the CFTC, a record number of hedge funds and other speculative traders
bet against gold prices rising
. Investment in the giant SPDR Gold Trust (NYSEArca:GLD) – a favoured vehicle for gold price exposure amongst money managers during the financial crisis – shrank to its lowest level in 7 years in mid-August, also reversing course since then.
The number of private investors starting or growing their personal gold holdings in contrast rose 19% last month from August 2014, according to BullionVault's data. First-time account fundings stood 45% higher, in line with 2015's year-over-year increase to date.
BullionVault's Silver Investor Index also eased further from two-year highs in August, slipping to 54.5 from July's 56.7 reading.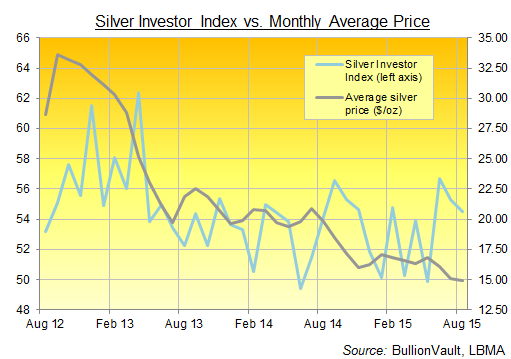 By weight, client silver holdings grew 1.5 tonnes (0.3%) to the fifth new monthly record in a row at 528 tonnes.
Client gold holdings shrank a little, in contrast, down by 86 kilograms (-0.3%) from July's new all-time record to end August at 34.1 tonnes, all vaulted securely in the client's choice of London, New York, Singapore, Toronto or Zurich.
But in the main, and unlike money managers reversing their ETF sales or hedge funds racing to cover their shorts late last month, private investors didn't need to revise their position on gold amid August's turmoil, having already turned positive throughout 2015.
New buyers continue to enter the market, building their personal gold holdings as a defence against equity and credit risk. Private gold demand is likely to grow further as faith in central bankers erodes. The Chinese authorities' loss of credibility over the stock market slump looks set to infect the US Fed, delaying its first baby-step rate hike from zero yet again and pushing the Eurozone to accelerate its QE money creation.
Should the stockmarket volatility roll on, meanwhile, gold investing may not pay off immediately. But selling or daring to 'short' it through the derivatives market cost money managers dear last month.
Private investors have the luxury of taking the longer-term view. Those wanting quieter, steadier returns were ahead of the game this summer, investing in gold as insurance against just the sort of stockmarket shockwaves now coming from China.