Gold Investing Jumps, Selling Drops 30%
Tuesday, 7/07/2015 09:26
Gold investing sentiment hits 2-year high, owners 'sticky' amid latest Greek-Euro crisis...
GOLD INVESTING sentiment among self-directed private investors reached its highest peak for more than two years in June, writes Adrian Ash at BullionVault.
That's according to our latest Gold Investor Index. It measures sentiment towards gold using trading data from BullionVault, the world's largest gold and silver investment platform online.
Nearly 90% of BullionVault users live in Western Europe or North America. Launched 10 years ago by I.T. entrepreneur Paul Tustain, the service was used in 2014 to exchange $1.2 billion of professional-grade bullion (£740m, €920m, ¥129bn) at the very best prices.
BullionVault's 56,000 users today own $1.3 billion worth of gold bullion between them (£810m, €1.1bn, ¥155bn) – more than is held by most of the world's central banks – plus a further $260m (£165m, €230m, ¥32bn) in physical silver. And last month the number of gold buyers rose to the greatest in 18 months, while the number of existing investors who chose to sell fell 30% from the previous 12-month average.
As a result, the Gold Investor Index – which tracks the balance of buyers over sellers across the month – rose to 54.6 in June. That beat February's strong rebound from near 5-year lows, to record the highest reading since the spike of April 2013.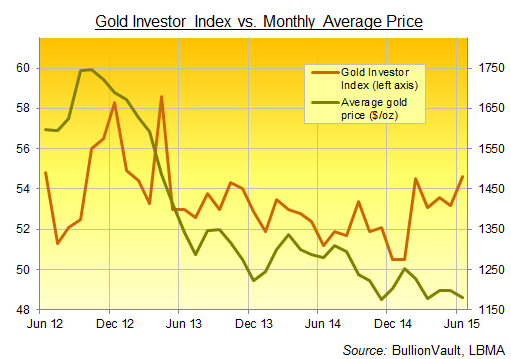 A reading above 50.0 signals more people growing their holdings than selling over the month. The index hit a series record of 71.7 in September 2011.
Last time gold investing sentiment was this strong, April 2013's near-10% price crash saw demand jump across the retail gold market. It retreated just as quickly, however, once that bargain-hunting was exhausted.
2015 in contrast has seen both sentiment and prices hold much steadier, consolidating as investors begin to query the high valuations put on equities and the record-low yields paid by government debt.
Most notably, existing bullion owners have become much stickier, avoiding sales on both spikes and dips as the economic back-drop starts to make the case for holding rare, indestructible and instantly tradable gold very plain once again.
This turnaround in investor sentiment isn't about Greece, because inflows to physical gold have been rising since the turn of this year. Private investors had already begun questioning the ability of policymakers to maintain confidence in the broader economy and monetary outlook.
As it is, gold prices have yet to react either way to the current Greek crisis. Gold has so far avoided the sell-off hitting equities and industrial commodities, but it's also failed to surge as gold did when Athens' debts first hit the headlines five years ago. That's because this crisis, for now, remains Greece's alone. Money managers have yet to take fright. It would be irrational if not greedy or ghoulish to expect gold's function as financial insurance to pay off in the absence of broader investment stress.
That insurance continues to gain appeal however. Gold investing demand by weight rose in the first half of this year at the fastest pace since late-2012. Self-directed private investors, managing their own money and making their own decisions, added more than 1.4 tonnes of gold to their total holdings since New Year – three times as much as during the first 6 months of 2014. That took total client gold holdings on BullionVault to a fresh record above more than 34 tonnes, as shown on
the public Daily Audit here
.
Net silver demand, meantime, has weakened a little so far in 2015 compared with the first half of last year. Down 18% from H1 2014, net inflows of client silver totaled 22.6 tonnes – the slowest first half addition since BullionVault launched silver in 2009. Sentiment of course has remained highly volatile as always, but it also jumped in June.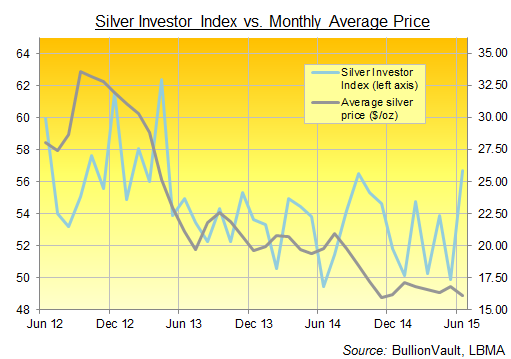 Rising from its second dip below 50.0 of the last year in May, the Silver Investor Index jumped last month at the fastest pace since March 2012, hitting 56.7 as the number of private investors buying silver reached the highest level in 9 months, but the number of sellers fell to its lowest level in 3 years.
That meant silver, like gold last month, held the strongest appeal for private investors making their own decisions since the price crash and bargain-hunting sentiment spike of April 2013. That proved a fake-out, as the Cyprus banking crisis failed to spook financial markets more broadly, and the Greek-speaking half of the Mediterranean island toed the Eurozone line – accepting its bail-out, and "bailing in" its larger depositors – to retain membership of the single currency.
Maybe Greece will now do the same. Maybe fund managers' complacency and faith in the broader financial markets will prove right. But a growing number of private investors, however, aren't going to wait to find out. On our figures – showing revealed preference, not survey-based 'intentions' amongst the world's largest single pool of physical bullion owners – the trade amongst self-directed Western investors so far in 2015 has switched to buying and holding gold bullion, and with the strongest conviction in over two years.