Gold Investing Makes Record Run as Covid Catastrophe Continues
Tuesday, 7/07/2020 09:34
Uncertainty driving private savings into physical bullion...
GOLD INVESTING has never held as strong as it's running during the global coronavirus pandemic, writes Adrian Ash at physical precious metals market-leader BullionVault.
Now caring for $3.1 billion (£2.5bn, €2.8bn, ¥336bn) of precious metals for our users, BullionVault enables private investors to buy and trade gold held in London, New York, Singapore, Toronto or – most popular – Zurich in Switzerland.
The
Gold Investor Index
tracks sentiment among those 85,000 users – the world's largest pool of private bullion owners – by comparing the number of gold buyers versus sellers each month, rebased so that 50.0 would indicate a perfect balance.
Slipping from 60.7 in May, June's reading of 60.2 marked the 4th month in a row that the Gold Investor Index read above 60. That beat the record strength of August to October 2011, height of the global financial crisis.
June's reading would have marked an 8.5-year high if not for spring 2020's record jump.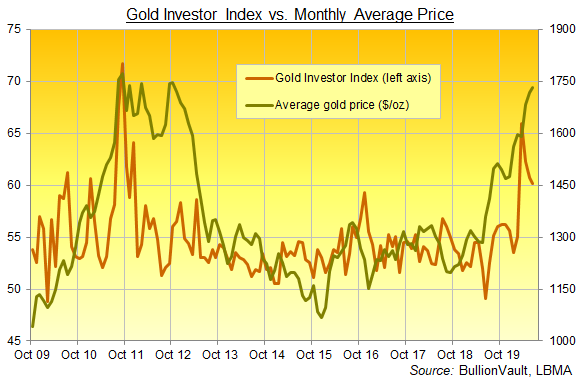 This strong reading on the Gold Investor Index has again been led by rapid growth in the number of first-time investors. Although easing back from
March to May's new records
, BullionVault saw more than twice as many people start investing in precious metals in June as we've typically seen each month in recent years.
Sentiment towards silver also remained historically strong in June, but the Silver Investor Index continued its retreat from the March's all-time record high of 75.1, slipping from 59.2 in May to 57.0 last month.
That put the Silver Investor Index 6.3% above its 5-year average from before the Covid Crisis. The Gold Investor Index in contrast held 10.7% higher.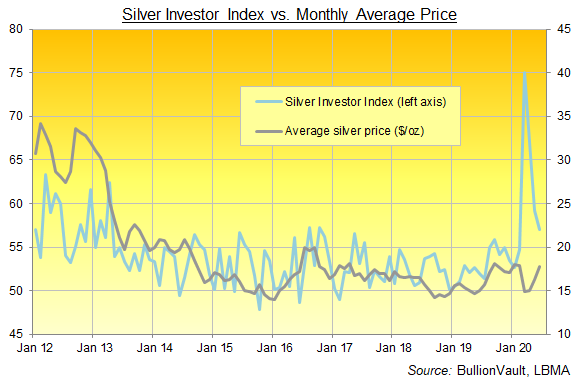 The number of first-time investors on BullionVault also retreated in June, totalling just half the record levels averaged between March and May (-52.9%) but it still more than twice the previous 5-year monthly average (+135.7%), led by growth in new users from the Eurozone (+157.1%).
Allowing for investor selling, June marked the 5th consecutive month of positive gold demand on
BullionVault
, with another 0.7 tonnes taking total client holdings to a fresh record of 43.6 tonnes worth $2.5bn (£2.0bn, €2.2bn, ¥267bn).
Silver demand, net of client selling, equalled 18.1 tonnes, taking total user holdings to the 12th new monthly record in succession above 1,041.5 tonnes worth $598m (£487m, €533m, ¥64bn).
Bottom line? From infection rates to the economic impact, the true scale of the coronavirus catastrophe is still far from clear, and continued demand for physical bullion reflects this uncertainty. With key data constantly called into question as the pandemic worsens, record numbers of people are seeking some stability for their savings in the form of precious metals.