Gold Investing Cut 3rd Month Running
Tuesday, 7/04/2017 10:42
New stock-market highs see 'bear market low' in new gold investing...
INVESTORS tend to buy precious metals as insurance against losses in other assets, writes Adrian Ash at BullionVault.
So the current fresh record highs in global stock markets are depressing new interest in gold investing. It retreated in June from May's 5-month high, falling as prices whipped higher and then lower.
Contrarian-minded investors know that buying gold ahead of stockmarket weakness has proven smart in the past. But the lack of a clear direction in gold prices is also making existing investors price sensitive, buying the dips and selling the spikes.
Overall, users of BullionVault – the largest online market for physical precious metals – cut their total gold holdings by weight for the third month running as a group in June.
New interest was also weak, with the number of first-time investors in both the US and Eurozone again setting the lowest monthly level since gold bottomed at 6-year lows in December 2015.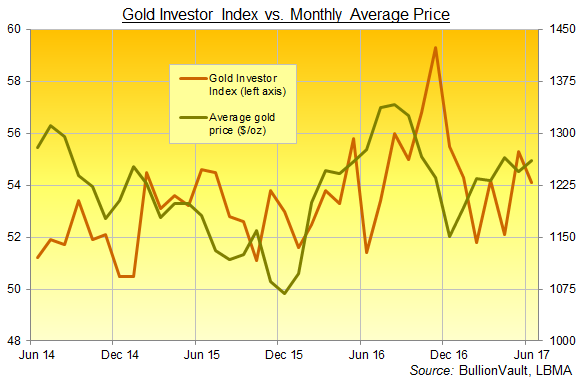 Across June as a whole, the number of people starting to invest or growing their holdings slipped 8.4% from the month before. The number of net sellers rose 19.3% from May's 8-month low.
That saw the Gold Investor Index – a unique measure of private sentiment towards physical bullion – drop to 54.1 from May's level of 55.3, the highest reading in 2017 so far.
Run since October 2009 and built solely from real trading activity on BullionVault, the
Gold Investor Index hit a 5-year high
of 59.3 last November. It has only once read below 50.0, dipping to 48.8 in February 2010 to signal more net sellers than buyers.
So why the drop this June? And why the net selling by BullionVault users – the Western world's largest single pool of private investors trading precious metals online?
BullionVault users as a group have now sold a net 192 kilos of gold from their aggregate holdings since end-March's new all-time peak of 37.9 tonnes. This 0.5% outflow marks the first 3-month drop in total client gold holdings since New Year 2015.
The same switch to weaker investing and net selling shows across the wider industry too. The US Mint, for instance, this week reported its weakest gold Eagle coin sales for the January-to-June period
since 2007, down a massive 92%
from the first-half of 2016.
Data from Google meantime says the number of searches for gold-investing terms recovered in June from May's 10-year low, but held at just 55% of 2011's all-time peak.
Yes, ongoing turmoil around Brexit, plus
June's absurd, pointless General Election
, saw the number of new UK users reach its highest in 3 months. But new interest from both the US and Eurozone remained the weakest since December 2015 – back when the bear market in gold took prices down to
what were 6-year lows
.
Last month's net selling in gold came as early June saw both US Dollar and
UK gold prices
rise sharply from May's multi-month lows, pushing the monthly average higher. That depressed new investment demand and saw more active traders take profit.
This net selling contrasted with silver, which again saw BullionVault users continue to add to their aggregate holdings, acquiring another 5.7 tonnes to reach a new record total of 677.7 tonnes.
In fact, BullionVault users have never been net sellers of silver month-to-month since we added the metal to the platform at the start of 2010. Net demand –
aka "silver stacking"
– has over the last year added an average 6.4 tonnes to client holdings every month, just ahead of the half-decade average.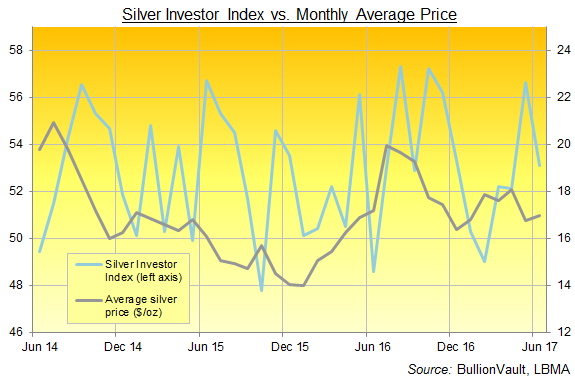 The Silver Investor Index also fell back however this June, retreating to 53.1 from May's reading of 56.6, its highest level in 7 months. That's because, as with gold, prices rose early before slipping back, taking the month's daily average price 1.2% higher in Dollars, 2.2% higher in Sterling, and pretty much unchanged even against the resurgent Euro.
So as in gold, active traders remain price sensitive in silver – taking profit ready to re-build their holdings on lower prices. The big difference is the underlying bid for silver no matter what happens to prices. Not down here at least, at just 40% of spring 2011's record highs.