Gold Investing Sentiment Hits 4.5-Year Low
Tuesday, 7/01/2014 09:01
Gold $1300 spurs more sellers, fewer but larger buyers on No.1 physical exchange...
GOLD INVESTING amongst private households sank to the weakest sentiment in nearly 4.5 years in June, writes Adrian Ash at BullionVault.
Bulls can blame last month's jump above $1300 per ounce. It spurred the number of sellers on Bullion Vault – the world's largest physical gold provider online – and deterred new buyers. That took our Gold Investor Index down to 51.2, the lowest reading since February 2010.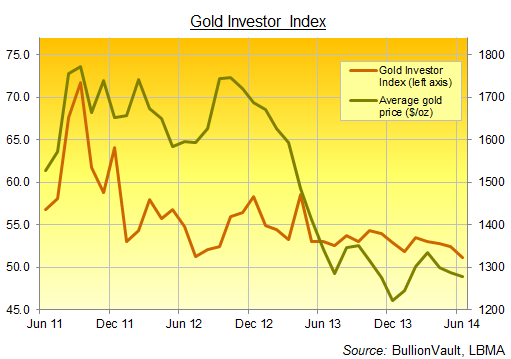 The Gold Investor Index is a unique window onto private investing behavior in gold.
Unlike an exchange-traded trust fund (ETF), BullionVault has few professional money managers amongst its 52,000 users. Unlike a retailer dealing coins or small bars, we also enable our users to sell their vaulted property instantly, when they choose (and offering it at their own price too if they wish).
So we see 2-way flows, live, in and out of physical gold from the investing public. We also get to count how many people begin or grow their gold investing using the internet's largest physical bullion exchange, and how many sell or quit.
Measured across each month, BullionVault's Gold Investor Index simply takes the second away from the first, and gauges the difference as a proportion of all existing owners at the start. The number is then rebased, so a reading of 50.0 would signal a perfect balance between the number of net buyers and net sellers. And the Gold Investor Index hasn't been closer to that reading of 50.0 in 52 months.
Falling to 51.2 in June 2014, our measure of gold investing sentiment compares with 53.0 last June when prices sank to 3-year lows. (
Read more about how the spring 2013 crash has changed the gold market here.
) It fell sharply from May's 52.4 – the fastest percentage drop since last summer, in fact. And it also stands well below the Gold Investor Index's average reading of 55.4 since first calculated for October 2009.
The index peaked at 71.7 in September 2011. It has been lower than last month when it fell below 50.0, dropping to 48.8 on a bout of profit-taking in February 2010.
So sentiment towards gold amongst the investing public has scarcely been lower since the metal kept making headlines during the peak of the financial crisis. Last month's price jump through $1300 per ounce deterred new buyers and also saw a sharp rise in the number of sellers.
But while the ratio of buyers to sellers fell from the last 12 month's average of 1.9 to just 1.4 however, overall client holdings rose by weight. Because the growing number of sellers were outweighed by larger investors choosing to grow their holdings.
Indeed, we saw several larger users who had previously sold out – taking profits before the spring 2013 price crash – coming back to start rebuilding their positions.
Smart, early or late? Here in midsummer 2014, gold investing has slipped from the news headlines. Mainstream analysis and financial media coverage hasn't been so down on the metal for a decade or more.
A bloody-minded investor wanting to go against the crowd might see this as a signal. Anyone investing for the long run might agree if they just want to insure their savings at what remain low gold prices compared to those peaks of 2011.