'Bear Market Low' in New Gold Investors
Tuesday, 6/06/2017 09:00
2015 low in new investors, 10-year low in search volumes...
GOLD INVESTING sentiment jumped to a new 2017 high in May, writes Adrian Ash at BullionVault, but only amongst existing precious metals investors.
The balance of private investors buying gold over those who chose to sell rose at its fastest pace in more than two years as existing users of BullionVault – the world's largest physical bullion market online – took advantage of last month's price drop to build their personal holdings.
But the number of private individuals coming to the precious metals market for the first time stayed weak, slipping for the second month to its lowest level since gold investing prices bottomed at 6-year lows in December 2015.
This 'bear market' lack of new interest comes after the strongest run of gold investing demand in 5 years. It also contrasts with the underlying trend in gold prices.
So despite gold's strong rally so far in June, equities and other risk assets remain the focus for most private investors.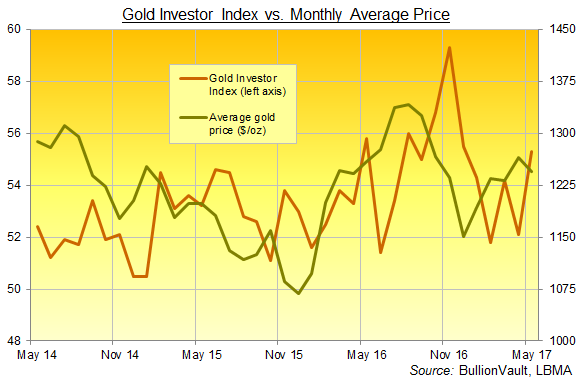 Retreating from
April's geopolitical spike
, last month's daily average gold price slipped 1.6% against the US Dollar, and gold dropped 4.6% and 3.8% versus the Euro and Pound respectively.
These discounts saw the number of BullionVault users starting or adding to their gold holdings rise over 28% from April, reaching its largest size since December 2016. The number of sellers meantime fell by one-third.
Together, that pushed BullionVault's
Gold Investor Index
– a unique measure of sentiment based on actual trading – up to its highest level since December, reaching 55.3 from April's level of 52.1 and rising at its fastest pace since February 2015.
The Gold Investor Index would read 50.0 if the number of net gold buyers across the month equalled the number of net sellers perfectly.
The index hit a series peak of 71.7 when gold prices reached their Dollar and Sterling record-highs in September 2011. It fell to just
50.5 across New Year 2015
.
Private investors also bought May's drop in
silver prices
, as the sharpest monthly price fall since October saw Dollar prices averaging 7% below April with a near 10% drop in Euro and Sterling terms.
The number of net silver buyers across the month rose 23% from April, while the number of sellers fell 44%.
That boosted the Silver Investor Index at its fastest pace since July last year, hitting a 7-month high of 56.6 from April's 52.1 reading.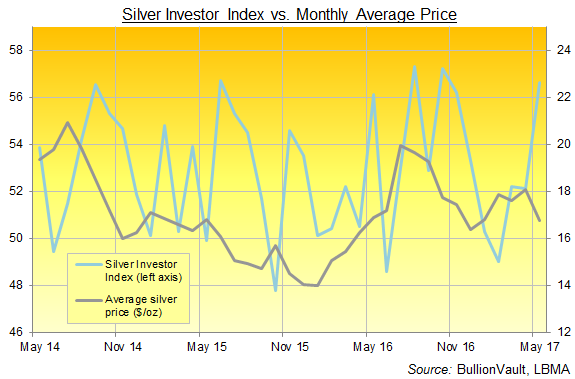 But while the balance of buyers over sellers rose sharply in both gold and silver, investing by private individuals new to the bullion market was weak for a second month running.
Data from Google Trends show global search volumes related to gold investing fall by almost one-fifth in May from the previous 12-month average, dropping March's 9-year low to reach the lowest level since October 2007.
Having set a 3-year record in 2016, the number of new users opening an account on BullionVault – which matched gold and silver deals worth $843 million in 2016 (£689m, €768m, ¥72bn) – fell 42% in May from its previous 12-month average, reaching its lowest level since gold and silver prices bottomed and then turned higher at the end of 2015.
May 2017 saw aggregate silver holdings expand by 8.5 tonnes, taking the total up to a new record of 671.9 tonnes.
The total quantity of gold held by BullionVault users was little changed, as selling outweighed demand by 10 kilos.
That kept the total amount of gold belonging to BullionVault users at 37.9 tonnes, down 0.2% from end-March's new all-time high.