Gold Investing Demand Stabilizes with Prices
Tuesday, 6/02/2015 09:04
Gold Investor Index sustains 2015 upturn, BullionVault users add 1 tonne in 4 months...
SINCE HITTING five-year lows at Christmas, gold investing sentiment amongst Western households has now seen the strongest sustained upturn since summer 2013, writes Adrian Ash at BullionVault.
That's according to our latest Gold Investor Index, which counts buyers against sellers on the world's No.1 vaulted bullion platform online. It's further shown on our
public Daily Audit of client property
by the additional 1 tonne of gold bought by BullionVault users since February. That's the heaviest addition by weight since the winter of 2012-2013.
BullionVault now cares for a record 33.8 tonnes of gold for its 56,000 users worldwide. Ninety per cent of them live in Western Europe or North America. All told, they have entrusted us with a total $1.73 billion in client bullion and currency (£1.13bn, €1.58bn, ¥214bn).
The Gold Investor Index takes the number of people who ended the month with less gold than they started away from those who grew their holdings, and then shows that balance as a proportion of all gold-owning users at the start of the month.
A reading of 50.0 would signal a perfect balance of net buyers with sellers. The Gold Investor Index slipped from 53.6 in April to 53.2 last month, just beating March's 53.1 reading.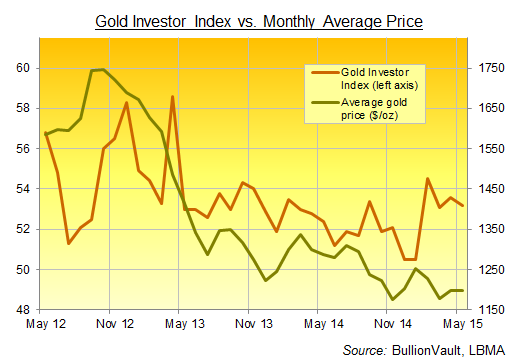 Higher from a year ago, May's reading on the Gold Investor Index was also higher than its 12-month average, marking the fourth month in succession of this year's solid recovery in sentiment.
This sustained recovery in gold investing sentiment matches what's been happening to prices. Because whether in Dollars, Sterling or Euros, the price of gold first reached current levels two years ago, and sentiment is now consolidating as prices continue to stabilize.
What's more, BullionVault users last month extended 2015's strong upturn in demand by weight as well, adding almost 0.2 tonnes of gold to their aggregate holdings – now outweighing the central-bank gold reserves of most nations worldwide – all of which is vaulted securely in the client's choice of London, New York, Singapore, Toronto or Zurich.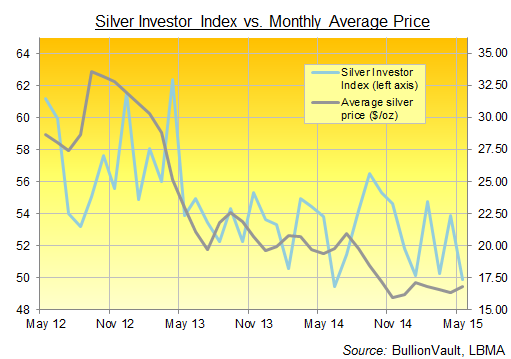 In contrast to the Gold Investor Index, silver sentiment dropped sharply in May, turning negative with a reading of 49.9 on BullionVault's Silver Investor Index.
Silver investors, however, are 50% more likely to trade their metal in any given month than gold. And silver prices hit 4-month highs for Dollar investors in May, and finished the month 2% and 3% higher for UK and Euro investors respectively. So May's pop in silver prices encouraged profit-taking by more active traders.
By weight, BullionVault users still grew their aggregate silver holdings for the fourth month so far this year, adding another 1.1 tonnes to a new record total of 504.7 tonnes.
Bottom line? Precious metals investing remains a minority sport across the Western world. But the number of self-directed private investors choosing to buy, own or trade physical bullion continues to grow – and they continue to choose the largest, lowest-cost platform online too.
You'll find all the data, plus charts for BullionVault's Gold and Silver Investor Index series, attached below.