Price Beats Politics as Real Gold Investing Falls
Tuesday, 5/02/2017 09:46
Physical gold investing blinks at Comex's "WW3 speculation"...
GOLD INVESTING by private individuals ended its strongest run of positive demand in 5 years in April as prices hit 5-month highs amid the spike in geopolitical risk, writes Adrian Ash at BullionVault.
After adding metal
for 8 months running
, users of BullionVault – the world leader in physical precious metals investing online – liquidated almost a quarter-tonne of gold as prices peaked mid-month.
Net demand then came back as prices retreated after the first-round of France's presidential election, and BullionVault users finished last month holding 37.9 tonnes of gold in total.
Outweighing most of the world's central banks, and worth $1.5 billion (£1.2bn, €1.4bn, ¥136bn), that was 70 kilograms below March's fresh month-end record.
New interest was also weak, with the fewest new buyers on BullionVault since gold prices hit 6-year lows in December 2015.
Money managers in contrast grew their
bullish bets on Comex gold
derivatives by 50% last month, and placed record bullish bets on silver.
But while hedge funds trading futures and options contracts acted like April threatened World War 3, price beat politics in the physical market, and private investors chose overall to take profit and wait for a pullback in gold bullion last month.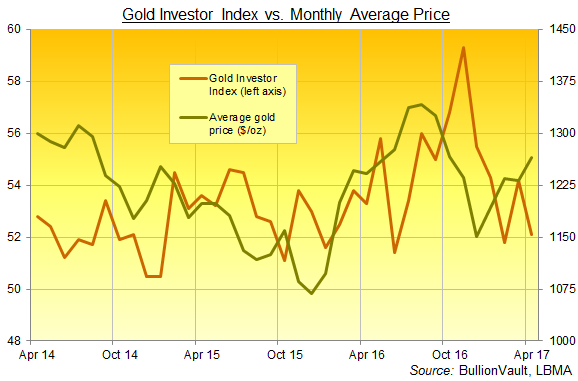 April's US-Russia stand-off over Syria, plus the
first round of the French presidential elections
, saw gold priced in both US Dollars and British Pounds jump to the highest monthly average since October, back before Donald Trump won the race for the White House.
Priced in Euros, gold bullion averaged its highest monthly price since September.
That price rise saw the number of people cutting or selling all their gold holdings on
BullionVault.com
jump by almost 22% from March. The number of net buyers in contrast fell by one-fifth, dropping to the lowest since January 2016.
Together this pushed the Gold Investor Index – a unique measure of actual trading amongst private gold owners – down from 54.2 in March to 52.1 last month, almost 4% lower.
A reading of 50.0 would signal an equal number of net buyers with net sellers across the month. The Gold Investor Index hit an all-time high of 71.7 as gold prices hit record peaks in September 2011. It hit 5-year lows beneath 51.0 as prices then fell towards their bottom in 2015-2016.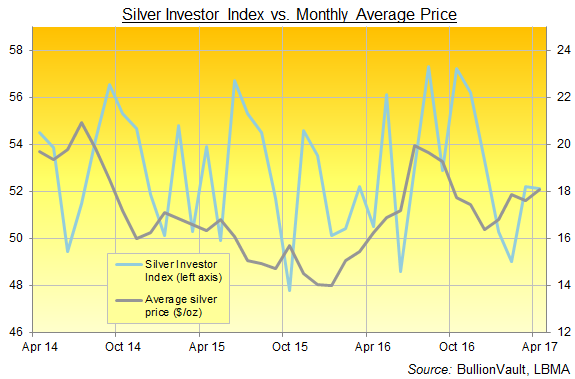 Across the month as a whole, the Silver Investor Index held little changed in April, slipping to 52.1 from 52.2 in March.
Client holdings of silver also remained less volatile than gold, with BullionVault users ending the month owning 663 tonnes – unchanged from end-March's new record – as the heavy selling seen mid-month was reversed when prices retreated from April's spike to 5-month highs.
Looking at new interest, the number of first-time users on BullionVault fell by one-third in April from the previous 12-month average, setting the lowest monthly total since gold and silver prices hit 6-year lows in December 2015.
With 89% of BullionVault's client-base living in Western Europe or North America, this comes after 2016 saw the largest number of new physical bullion investors since 2012.
April's weak retail bullion investing demand
saw the US Mint report
just 9,500 ounces of gold Eagle and Buffalo coin sales combined. Barely 295 kilos, that equaled less than 8% of April 2016's sales,
Australia's Perth Mint saw the lowest monthly sales in 5 years gold coins and small investment bars.
Echoing the frenzy in gold futures and options speculation, the number of shares outstanding in the giant SPDR Gold Trust (NYSEArca:GLD) grew slightly in April, but the largest silver ETF – iShares Silver Trust (NYSEArca:SLV) – more closely tracked the profit-taking and re-buying seen in directly-owned physical silver holdings on
BullionVault
, shrinking to a 1-year low before ending the month barely changed.