Western Gold Investing Eases from 3-Year Peak
Tuesday, 10/04/2016 09:00
But US gold investing drops hard, even as Fed holds rates and November election looms...
GOLD INVESTING by private individuals across the Western world retreated with prices in September, easing back from 3-year highs, writes Adrian Ash at BullionVault.
The Gold Investor Index – which measures the balance of private investors growing their gold holdings over those reducing them – slipped from 56.0 in August to 55.0 last month.
The index would read 50.0 if the number of net buyers exactly matched the number of net sellers across the month. It hit a series peak of 71.7 in September 2011, and bottomed at 50.5 over winter 2014/2015.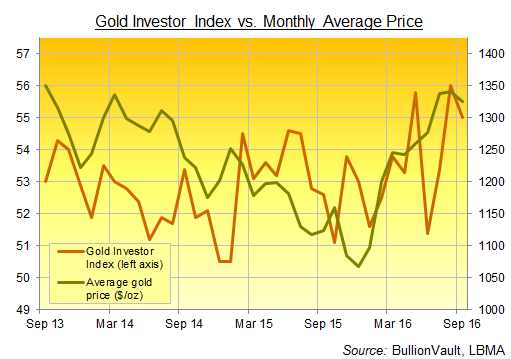 The number of new account openings globally held firm at
BullionVault
, the world's largest online precious metals exchange, where 89% of users live in either Western Europe or North America. First-time customers eased only to the lowest monthly level since May, when the looming Brexit referendum saw a further upturn in 2016's strong new private-investor interest in gold.
But new US account openings fell by almost one-third in September from the previous 12-month average, dropping to their lowest level since January. So too did the number of net gold buyers using BullionVault who live in the US.
So while gold investing demand remains strongly positive, and well ahead of the 2013-2015 lull, neither the US Fed's decision to hold rates nor the looming US election have so far extended this year's remarkable upturn in precious metals investment.
Judging from the gold market in fact, American households are far more sanguine about November 8th than media headlines suggest. But this drop does come after a marked and sustained upturn in US gold investing demand – first starting in
September last year
in fact, when the US Fed lost its nerve over the much-delayed 2015 rate rise.
Back here in 2016, and September typically marks a strong month for both gold prices and private-investor interest. But again, maintaining this spring's surging growth and the rush to gold following the
Brexit shock
was always going to prove a big ask.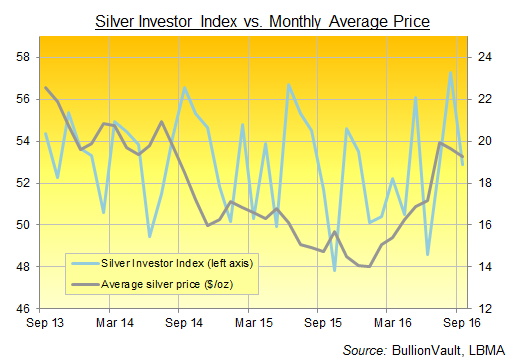 The Silver Investor Index also pulled back last month, dropping much harder from August's 3-year high of 57.3 to read 52.9 for September as prices made their second consecutive month-average retreat.
Silver's run of 6 monthly gains starting in February had been the metal's longest stretch of rising prices since 2006.
Like gold however, BullionVault users grew their silver holdings by weight, expanding 1.4% from August to a new all-time record of 622 tonnes – larger by one-sixth from the end of September last year.
Gold holdings grew 0.4% in September to a new record of 35.9 tonnes, swelling over 4% from the same month in 2015.
All told, that keeps BullionVault users' aggregate gold investing larger than
all but 48 national central-bank reserves
, ahead of world No.5 gold miner Peru, and just behind the world's 34th largest economy, Malaysia.
With central banks everywhere hell-bent on raising inflation, owning a little physical bullion as defense continues to grow in appeal in 2016.