Another 5-Year Record for Private Gold Investing
Tuesday, 4/04/2017 09:00
Gold investing extends best run since 2012 as Eurozone elections begin...
PHYSICAL GOLD investing amongst private individuals marked another 5-year record in March, writes Adrian Ash at BullionVault.
After seeing the strongest investing sentiment
since 2011
last November, with the heaviest annual inflows
since 2012
and then the
strongest January
since that year as well as 2017 began, net demand for gold bullion extended its longest positive run for 5 years in March, as investors added metal for the 8th month in a row.
That marks the longest unbroken stretch of client gold-buying on BullionVault.com – the leader in physical precious metals investing online – since the 20 months ending June 2012.
Buying another 131 kilograms net-net for the month, clients took their total gold investment holdings – vaulted in their choice of London, New York, Singapore, Toronto or Zurich – to a new record of 37.9 tonnes, more than most of the world's central banks hold in reserve.
Political risk continues to drive this private gold investing, with the Eurozone's busy election calendar spurring precautionary demand across the currency union – especially in northern member states – after Brexit and Donald Trump won their votes last year.
Worldwide, and with gold prices ending March virtually unchanged in Dollars, Euros or Sterling, the number of
BullionVault
users starting or growing their personal holdings rose 23% from February's 13-month low, while the number choosing to sell fell 22%.
That saw the Gold Investor Index – a unique measure of actual trading amongst private gold owners – rebound from February's level of 51.8 to read 54.2 for March.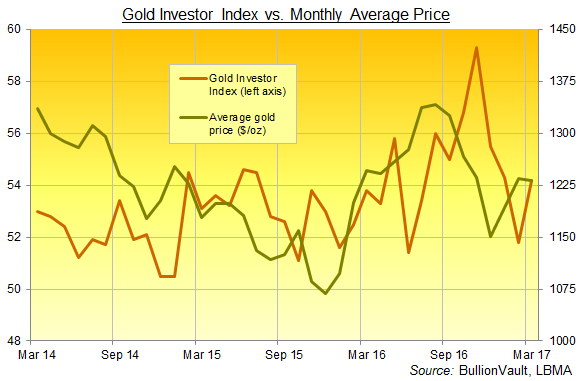 A reading of 50.0 would signal an equal number of net buyers with net sellers across the month. The Gold Investor Index has come below that level only once on BullionVault's 90-month series, in February 2010. It hit an all-time high of 71.7 as gold prices hit record peaks in September 2011.
In contrast to UK and US investing, which eased back from the strong Brexit and Trump election levels of 2016, new interest grew in March amongst Eurozone investors, led by Germany, France and the Netherlands, where the anti-Euro, anti-immigration PVV of Geert Wilders came second to the ruling coalition's Mark Rutte of the VVD in last month's general election.
April now brings first-round voting in France's presidential election, with the anti-Euro, anti-immigration Front National of Marine Le Pen
expected to poll strongly
. Gerrmany's young equivalent, the Afd, has
slipped in the opinion survey
ahead of September's federal elections, but the pro-Euro, open-door consensus under Angela Merkel will be in question as she seeks a record fourth term as chancellor.
The number of new UK users joining BullionVault slowed 23% in March from the previous 12 months' average, and the US was 21% down. But the month's total addition of new investors slipped only 7% overall as the number of new Eurozone users rose 20% in contrast.
Eurozone investors accounted for one-third of all new BullionVault users in March, and 40% of the net balance of buyers over sellers – both figures showing the highest proportions since December 2015.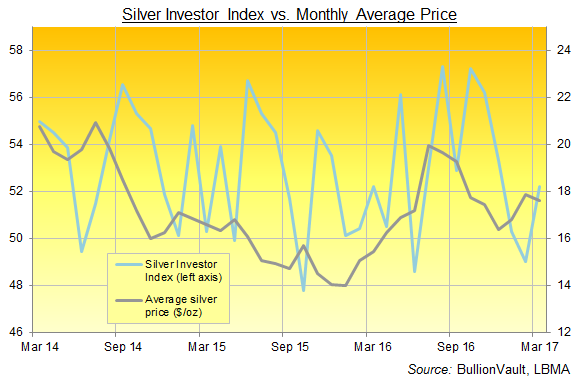 As in gold, the number of silver buyers also rose sharply in March as the price slipped 1.2% in US Dollar terms.
That pulled the Silver Investor Index up to 52.2 from February's drop to 49.0 – the fifth sub-50 reading of the last 3 years.
By weight, BullionVault users in March grew their
total silver holdings
for the 14 month in succession – the longest run since the 19 months ending May 2014 – with a further 2 tonnes of net demand taking the total to 661.5 tonnes.