Gold Investing Sees Strongest January in 5 Years
Tuesday, 2/07/2017 09:17
2017 private gold investing extends strongest run since 2012...
GOLD INVESTING demand last month recorded its strongest January since 2012, writes Adrian Ash at BullionVault.
Net of client selling, gold investing demand on
BullionVault
– the world-leading precious metals platform – totalled 0.4 tonnes last month, the strongest January in 5 years.
That took client holdings to a new record high of 37.6 tonnes, more than most of the world's central banks hold. It also came after 2016 saw the strongest full-year gold demand amongst BullionVault users since 2012, totalling 2.7 tonnes as the
Financial Times
' specialist
FTAdviser reported
.
January's strong gold demand came even as the metal enjoyed its fastest 1-month price jump since last summer's Brexit shock, gaining 4.6% against the US Dollar.
This price rise saw the number of BullionVault users starting or adding to their gold holdings slip from December, while the number of sellers rose.
Overall, that took the Gold Investor Index – our unique measure of private investor sentiment towards gold – down from 55.5 to 54.3, its lowest reading since July saw users take advantage of the Brexit spike to sell at the highest prices in two years.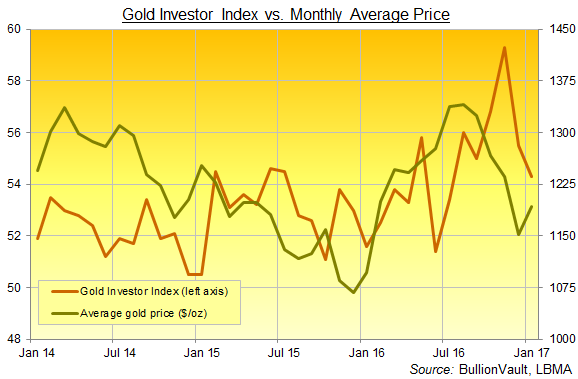 A reading of 50.0 would signal an equal number of net buyers with net sellers across the month. The Gold Investor Index hit a 5-year high of 59.3 as Donald Trump won the US presidential election in November.
Silver on BullionVault meantime saw its heaviest January demand since 2013 last month.
Net of client selling, customers bought an additional 4.2 tonnes of silver, taking their total holdings to a new record 650.9 tonnes – more than 103 tonnes ahead of this time in 2016.
Silver's price jump of 6.5% however met the fewest buyers amongst BullionVault users since January last year, very nearly outnumbered by the most sellers since July.
That pulled the Silver Investor Index down from 53.3 to just 50.3, its lowest reading since June's 48.6, when longer-term and more active customers
used the Brexit shock to sell
at the highest prices in two years.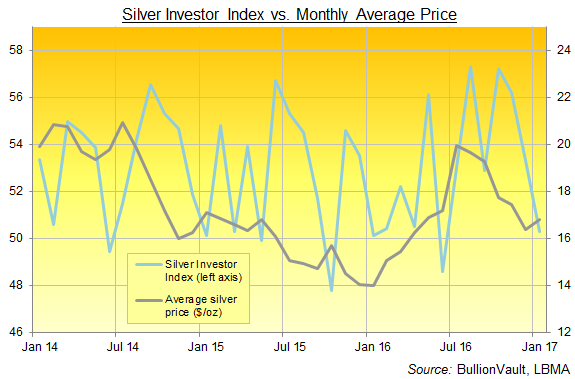 Both in gold and silver, last month's average buyer outweighed January 2017's average seller, adding to private investor holdings in total.
BullionVault users have now added silver for 12 months running, the longest stretch since mid-2014. Adding gold for a sixth consecutive month, their net demand has now made its longest run since the unbroken 20-month stretch ending in June 2012.
While sudden price spikes might see active traders take profits, we expect these underlying trends in precious metals to hold firm in 2017. Gold and silver investing demand has continued to rise with prices as Trump takes office, the UK moves to trigger Article 50, and European politicians start campaigning ahead of this year's key elections.
The financial and political risks building in 2016 have started to become reality.